Congrats to the March Hat Winner Shane!
Congratulations to our winner Shane and to everyone who signed up for our newsletter and hat giveaway! As a special bonus and thank you, we would like to extend to you, our valued reader, 20% off the C5 Corvette Book of Knowledge Owners/Buyers Guide & Membership!! Simply enter the discount code, "20percent" (without the quotation marks) at checkout when you visit, https://www.corvette-web-central.com/Corvette-buyers-guide.html Use the code as soon as possible as this exceptional offer will expire one week after release or 8/8/11.

Check us out in the back of the periodical Corvette Magazine promoting both the C5 and C6 E guides! Look for us in the June issue!

In addition, for a limited time, we're giving away free cool Corvette hats in our online store, http://corvettewebcentral.myshopify.com/ We offer already low prices on top of these exceptional free hats and can't afford to run this promotion forever!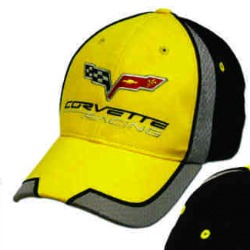 ZR1 Sets New Nurburgring Record! Yeah its Fast!
Official Press Release:
Corvette returned to the world's most-demanding testing ground – Germany's famed Nurburgring – and recorded lap times that rank among the fastest recorded for a production car.

As detailed on video, the 2012 Corvette ZR1 recorded a lap time of 7:19.63, more than six seconds faster than the previous Corvette-best recorded in 2008. A lap video featuring the Corvette Z06 will be released soon.

"Testing at the Nurburgring is one of the important methods we have to validate our car in the toughest track conditions." says Tadge Juechter, Corvette vehicle line director and chief engineer.

Measuring 12.9 miles (20.8 km) and including some 154 turns, the Nurburgring's Nordschleife ("north loop") is widely considered the world's most-demanding course. As was the case at Corvette's last test in 2008, the car was driven by Corvette engineer Jim Mero and was a full production model with no performance modifications. This test was to validate the car's added performance technology coming to production later this summer for the 2012 model year.

Corvette's improved performance for 2012 begins with the new, optional Michelin® Pilot® Sport Cup Zero Pressure tires, which are available on the two highest-performing models, the lightweight, 505-hp (377 kW) Z06 and the maximum-performance, 638-hp (476 kW) supercharged ZR1. They are competition-oriented tires, optimized for warm, dry conditions to increase cornering and handling capability.

When combined with the Corvette's exclusive Performance Traction Management (PTM) technology – which manages torque delivery for maximum performance – the tires set new benchmarks for Corvette performance. Engineers estimate an 8-percent gain in maximum lateral acceleration, to more than 1.1g, and improved braking distance.



corvett2@corvette-web-central.com


Corvette Buyers Guide News
Just Released the C6 Corvette Buyers Owners Guide "C6 Corvette Book of Knowledge". This book expands the buyers guide series to 2 books! Combined they have 250 pages and almost 60,000 fact filled words!

The C5 Corvette Buyers Owners guide, "C5 Corvette Book of Knowledge," continues to grow! We just sent out revision 1 free of charge. We updated the inspection, storage and road test checklists. In addition we added some more great recommended products.

We are rapidly expanding the members area that comes with the E guide. The members area is designed to be easy to use and contain links and information vital to C5 Corvette ownership and maintenance. We just added a video player with helpful information. This is in addition to a parts manual and pdf versions of official owners manuals and DIY links.

For the past several months we have been working on the next E guide in the series of Buyers Owners Guides. This E guide will continue on the great success of the C5 Book of Knowledge. The new E guide will be for the C6 and will stay with the same title. The "C6 Corvette Book of Knowledge" will be unique to C6 Corvettes. We will also be in the back of the periodical Corvette Magazine promoting both the C5 and C6 E guides! Look for us in the June issue!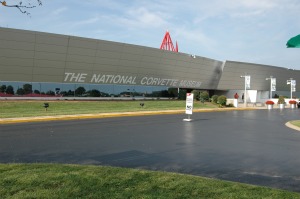 Corvette Museum 2011 Events
Click here for all the 2011 Corvette events!
C5 Corvette Book of Knowledge Buyers & Owners Guide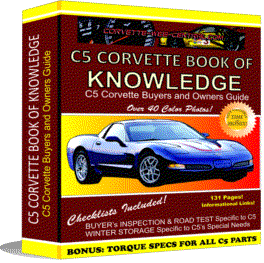 Well, we did it! After years of research and hard work we finally finished the C5 Book of Knowledge! The book evolved into more of a well round ownership experience book. Consider it a bible for C5 Corvette owners!
It instills the tools to empower every Corvette enthusiast to purchase, own and maintain their dream C5 Corvette. The book also teaches you what makes the C5 generation unique along the way. We provide you with the tools and the knowledge to keep your life easy! You only need to provide enthusiastic passion... The C5 Corvette Book of Knowledge! This link lists more details on the E Publication!


Our site is growing everyday and for that we thank all of you! If you haven't stopped by in a while we have added newer style Youtube players so the videos are easier to watch. We also add videos almost every day now with even more categories. We have a cool search function for Corvette News from Google in which all things Corvette come to us from the web for you to read! Click here to see the what we are talking about! There is just too many new things to list so just come and take a look around again! We look forward to seeing you!
Whats New!
Corvette Videos!
Corvette-web-central.com Home page!