Latest Corvette News!
Corvette News By Chris Trautman
2015 Z06 Corvette
GM Offers Extended Warranty Coverage on C7 Corvette for On Track Overheating Issue 
By Chris Trautman - Dec 23, 2020 
GM issued a revised warranty for the C7 Z06 Corvette on track overheating issue. Since the introduction of the Z06 in 2015, some model years when used on hot track days were plagued by overheating related issues. While not overheating, the car does go into a reduced engine power mode to preserve itself. GM notified dealers this week that they had implemented extended warranty coverage for all 2015-18 C7 Z06 Corvettes. 
GM details that all owners that meet the right conditions stated in the extended warranty would, in these specific cases, cover owners to get the 2019 corvette (improved cooling) radiators.  Automatic equipped Z06 Corvettes would add powertrain calibration updates with improved shift points installed free of charge.  
As with all warranties, special conditions apply, read more details here.
2021 Model Year Order Books Are Now Open
2021 C8 Corvette
By Chris Trautman - Nov 15, 2020 

2021 Corvette ordering is now open for the second model year of the C8 Mid Engine Corvette. The backlog of orders and the global pandemic that has raged throughout the world has strained the production capacity. Even with all these challenges, C8 sales are strong. C8 production was extended for the model year 2020, which impacted some orders from overseas.
GM recently had to rescind the RH drive allocations for Australia so that they could meet US demand.
Read more about the C8 Corvette
Corvette News 11/09/11
C7 Corvette Test Mule
7 Speeds for C7 Corvette test Mule?
Corvette News C7 Corvette Test Mule Caught outside the proving grounds in Michigan. If you look closely at the pictures you will notice the C6 Corvette looks a little different. See More Pictures & Information


11/05/2010 New 2011 Corvette Z06X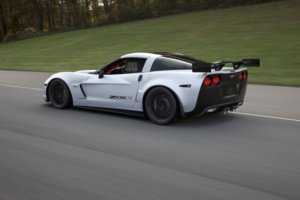 Corvette Z06X


Looks like GM has created the Z06X Corvette for a special niche! What is that you might say? How about kicking some serious but on a track! (Read More)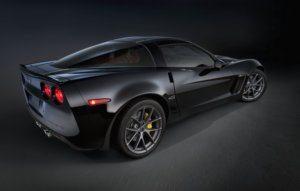 Chevrolet designers have created the Corvette Jake Edition Concept, a special Grand Sport convertible concept vehicle that celebrates Corvette's racing spirit. (Read More)


5/30/10 Corvette News
GM filed a trademark with the US Patent and Trademark Office for the name "Stingray". They registered it for use on "motor land vehicles, namely, automobiles". This could be leading to GM may registering the name in advanced of launching the C7 Corvette which is expected sometime between 2012-2014.


3/12/2010 New 2011 Corvette Z06 Carbon Edition
11/05/10 Z06X Special & Carbon Edition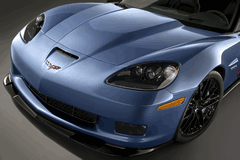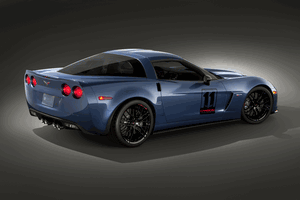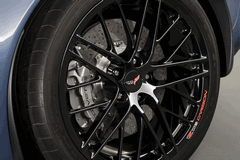 Corvette News 3/24/2010
DETROIT – The first of 500 retail 2011 Corvette Z06 Carbon Limited Edition coupes will go to the highest bidder at Barrett-Jackson in Palm Beach, Fla., on April 3.
The winning bidder will also be given the unique opportunity to tour GM's Performance Build Center in Wixom, Mich., home of the hand-built LS7 and LS9 engines found in the Z06 and ZR1 respectively. The winner will also have the opportunity to watch the car going down the line at the famed Corvette Assembly Plant in Bowling Green, Ky.
"The Corvette Z06 Carbon will surely be an instant collectible," said Jim Campbell, U.S. Vice President, Chevrolet Marketing. "For that reason, we see Barrett-Jackson as the premiere venue to sell the first retail Z06 Carbon."
The Corvette Z06 Carbon was designed as a tribute to the 50th anniversary of Corvette's first race in the 24 Hours of LeMans. As such, it continues the technology transfer between the production Corvette and racing.
Notable features of the Z06 Carbon include Brembo carbon ceramic brakes, Michelin PS2 tires, Magnetic Ride Control and enhanced cooling. Black headlamps and mirrors, a ZR1-style body color spoiler, body color door handles, carbon fiber raised hood, and black carbon fiber rockers and splitter enhance the Z06's dynamic design and reduce mass and aerodynamic lift.
This auction continues Chevrolet's tradition of offering exciting cars at Barrett-Jackson. At the Scottsdale, Ariz., auction in 2008, the first retail production 2009 Corvette ZR1 sold for $1,000,000. The first retail 2010 Chevrolet Camaro was also sold for $350,000 at a Barrett-Jackson auction last year. Most recently, a limited edition Corvette Z06 (number 427 of 427 produced) garnered $200,000, all of which was donated to the Red Cross relief efforts in Haiti.
The Barrett-Jackson Palm Beach auction runs from April 1 to April 3.

Corvette News 3/12/2010
DETROIT 3-10-10 -- When the 2006 Corvette Z06 was introduced, it represented the closest connection to the Corvette race cars ever. The 2009 Corvette ZR1 closed the gap between racing and production even further. This year, Corvette continues its tradition of track-to-street technology transfer with the 2011 Corvette Z06 Carbon Limited Edition.
"Designed to further incorporate technology developed through racing, the Corvette Z06 Carbon Limited Edition is a tribute to the 50th anniversary of Corvette's first race in the 24 Hours of LeMans," said Jim Campbell, Chevrolet General Manager. "With a limited production of 500 units, this car is a must-have for the true Corvette collector and driving enthusiast."
The Corvette Z06 Carbon Limited Edition is another example of the expanded Corvette line-up. Five years ago, customers had the choice of a Corvette coupe or convertible. With the addition of the Z06, Grand Sport coupe and convertible and ZR1, Corvette enthusiasts now have more choices than ever.
"For track use, the Z06 Carbon is the best balanced Corvette yet. It combines the lightweight and naturally-aspirated Z06 engine with the road-holding and braking of the ZR1," said Tadge Juechter, Corvette Chief Engineer. "For technical tracks like Laguna Seca, the Z06 Carbon could shave up to three seconds off the Z06 lap time."
This limited edition Z06 will boast Brembo carbon ceramic brakes with specific dark gray metallic calipers. These powerful brakes were first introduced on the ZR1. Black 20-spoke 19-inch front/20-inch rear wheels complement the car's Michelin PS2 tires. Other mechanical features include Magnetic Selective Ride Control for the first time on the Z06 and enhanced cooling. The car also features a special carbon pattern engine cover.
The Corvette Z06 Carbon will be available in two colors: Inferno Orange and the all-new Supersonic Blue. Black headlamps and mirrors, a ZR1-style body color spoiler, body color door handles, carbon fiber raised hood, and black carbon fiber rockers and splitter enhance the Z06's dynamic design and reduce mass and aerodynamic lift. For track events, customers can also install the Euro-styled racing numbers that come with each car.
The Z06 Carbon's ebony leather and suede interior is complemented by blue or orange seat stitching to match the exterior color chosen. Other features include a unique steering wheel emblem, sill plate and logoed headrest. The suede used on the steering wheel, shifter, seat inserts, armrests and doors add to the luxury of this limited edition Z06.
An optional Z07 performance package that includes the mechanical upgrades introduced on the Z06 Carbon can be added to a regular 2011 Z06. This package also includes Competition Gray 20-spoke wheels and all the chassis and cooling upgrades.
The CFZ Z06 carbon fiber package includes black carbon fiber rockers, splitter and roof panel with the full-width body color spoiler. It can also be purchased with or without the Z07 package on regular Z06 models.
The 2011 Corvette Z06 Carbon Limited Edition, as well as the new Z07 and CFZ Z06 option packages will be available in late summer.
Source: GM Media © Copyright General Motors
Stay with us here to read more great Corvette News at Corvette-web-central. You saw it here first!


Corvette News Videos
Corvette News 2/20/2010
Corvette Racing's next event is the season-opening Mobil 1 Twelve Hours of Sebring at Sebring International Raceway in Sebring, Fla., on March 20, 2010. The classic 12-hour endurance race will be televised live on SPEED starting at 10 a.m. ET.
Corvette Racing to Return to Le Mans in 2010
Corvette Racing will take on its most formidable challenge to date when it competes in the GT2 class at the 24 Hours of Le Mans in Le Mans, France, on June 12-13. The twin Compuware Corvette C6.R race cars are among the 17 entries in the GT2 class invited by the Automobile Club de l'Ouest (ACO), organizers of the classic endurance race. Click here to see Corvette Racings home page and racing schedule!


Oliver Gavin narrates OnBoard Lap of Sebring for BBV (Bad Boy Vettes)
The 1.5 Millionth Vette Built!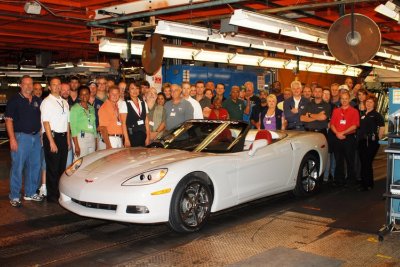 Corvette News FOR RELEASE: 2009-06-10

Chevrolet builds 1,500,000th Corvette
Pricing also announced for the 2010 Corvette Grand Sport
DETROIT - At the June meeting of the Greater Atlanta Automotive Media Association, Karen Rafferty, Chevrolet Product Marketing Director, today announced the recent production of the 1,500,000th Corvette at GM Bowling Green Assembly.
"The 1.5 millionth Corvette is a great example of how Chevy is America's Brand," Rafferty said. "For nearly 60 years we have built America's Sports Car and this milestone is a solid proof point."
The 1.5 millionth Corvette, built on May 28, is a white convertible 3LT with red interior and black top (similar to the first, 500,000th and 1 millionth Corvettes built in 1953, 1977 and 1992 respectively). The first Corvette rolled off the assembly line on June 30, 1953.
Rafferty also announced pricing of the all-new 2010 Corvette Grand Sport. Pricing for the Grand Sport coupe is $55,720 and GS convertible is $59,530. Both prices include a $950 destination freight charge.
"The Corvette Grand Sport achieves a 0 - 60 time in less than four seconds, pulls 1.0g on the skid pad and still boasts an impressive 26 highway mpg," Rafferty said. "These numbers are unmatched by any of Corvette's competitors."


CORVETTE IS SAFE!
5/6/09 Corvette News
Latest news on the Future of the Corvette! Not that we ever doubted its importance to everybody! Here is a Video with Fritz Henderson GM's new Brass!


We are now joined with the Corvette Museum!
Corvette News 4/24/09
Corvette-web-central.com has now joined forces with the National Corvette Museum in Bowling Green. We became a supporting member of the Museum here recently and are very proud to be involved in the organization and look forward to growing with them in the Future!
4/24/09 Press release from the Corvette Museum
Click here for the Corvette Museum Home page!


2010 Grand Sport
Latest Breaking Corvette News from the Corvette Bash in Bowling Green!
Chevy Announces the 2010 Corvette Grand Sport! It's one of the most illustrious racing heritage Corvettes and it is returning to the lineup. Chevrolet is announcing the new, 2010 Corvette Grand Sport today as part of the C5/C6 Corvette Birthday Bash!
The new Grand Sport model combines the Corvette's LS3-based powertrain with unique, wide-body styling and a racetrack-bred suspension for a distinctive, starting grid-ready performer. It is offered in both coupe and convertible body styles, with either a six-speed manual or six-speed automatic transmission. The LS3 6.2L engine is rated at 430 horsepower (321 kW)* and 424 lb.-ft. of torque (575 Nm)* with the standard exhaust system. An optional two-mode exhaust system elevates the power ratings to 436 horses (325 kW) and 428 lb.-ft. (580 Nm).


Photo: 2010 Corvette Grand Sport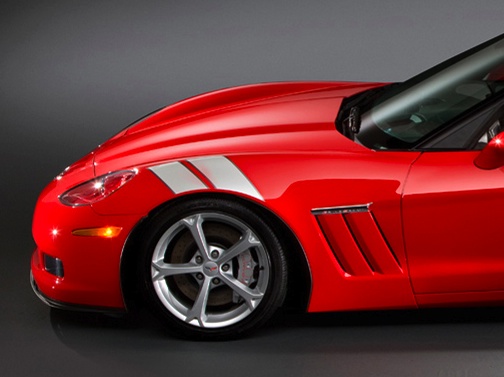 Click here to return to the home page from Corvette News!


Have something to share about Corvette parts or the best wax you like to use!
Do you have a great information? Share it! This is the place where everybody in the Corvette community can share things about their Corvette. Have a question ask it here. Share a picture of your car here.
What Other Visitors Have Said
Click below to see contributions from other visitors to this page...

My show car Not rated yet
I have an old C5 1998 model . I'm a member of "The Greater New Orleans Corvette Club". It has over 133000 miles on it always needs something done to it. …
My show car Not rated yet
I have an old C5 1998 model . It has over 133000 miles on it always find something to be done to it. It is my retirement project . Turn out better than …