C7 Corvette Z06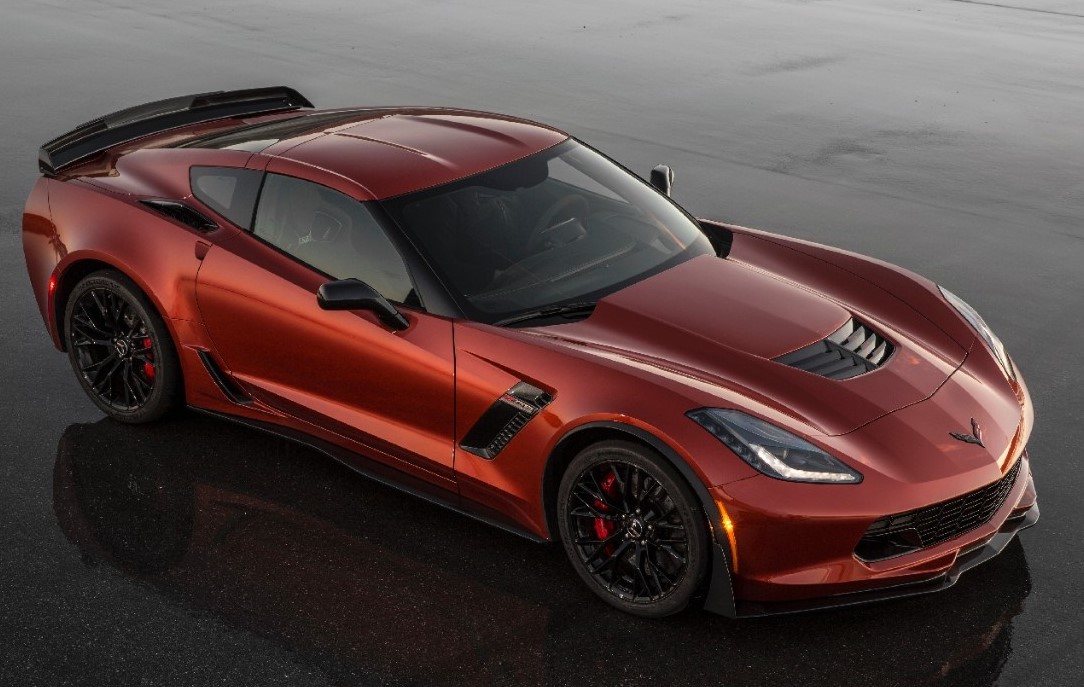 C7 Corvette Z06 Whats NEW for 2016
C7.R Edition – limited to 500 
Twilight Blue Design Package 
Spice Red Design Package 
Jet Black Suede Design Package 
Corvette Racing Yellow Tintcoat and Long Beach Red Metallic Tintcoat exterior colors 
New Carbon Fiber Hood option features a visible weave section
New "Blade" accessory wheel 
Available two-tone GT seats – red or gray – offered in leather or suede
New red or yellow stitching option offered on 3LZ Jet Black interior
3LZ trim offers Brownstone interior color and more interior color in 3LZ breakup design
New power-cinch feature for coupe hatch and convertible trunk latches
Front curb view parking camera offered on 2LZ/3LZ trims
Enhanced Chevrolet MyLink with smartphone projection technology, featuring Apple CarPlay capability 
New chrome engine start/stop button
New Performance Data Recorder icon on the MyLink screen (if equipped)
"The new C7 Corvette Z06 delivers levels of performance, technology and design that rival the most exotic supercars in the world," said Mark Reuss, president, General Motors North America. "And the Z06 leverages the engineering expertise of GM, offering the choice of two world-class transmissions, supercar performance without supercar fuel consumption and technologies that make it easier to fully enjoy the incredible experience of driving it."
The 2015 model is the first Corvette Z06 to offer a supercharged engine, an automatic transmission and, thanks to a stronger aluminum frame, a removable roof panel. The new, supercharged 6.2L engine is expected to deliver at least 625 horsepower (466 kW), and can be matched with either a seven-speed manual or an all-new, high-performance eight-speed automatic transmission with paddle shifters for manual control. The aluminum frame carries over from the Corvette Stingray and will be used essentially unchanged for the Corvette Racing C7.R.
A track-focused Z07 Performance Package adds unique components for true aerodynamic downforce, Michelin Pilot Super Sport Cup tires for enhanced grip, and Brembo carbon ceramic-matrix brake rotors that improve braking performance and contribute to greater handling through reduced unsprung weight. Although development testing is ongoing, the Z07 package has already recorded some of the fastest lap times ever for a Corvette, surpassing even the ZR1.
"The C7 Corvette Z06 is a great example of the technology transfer between racing and production Corvettes," said Tadge Juechter, Corvette chief engineer. "First, we took what we learned on the Corvette Racing C6.R and applied that to the all-new Corvette Stingray. Then, using the Stingray as a foundation, the Z06 and C7.R were developed to push the envelope of performance on the street and the track."
Supercharged, efficient performance

The heart of the 2015 C7 Corvette Z06 is the all-new LT4 6.2L supercharged V-8 engine, expected to deliver an estimated 625 horsepower (466 kW) and 635 lb-ft of torque (861 Nm). To balance performance and efficiency, the LT4 leverages the same trio of advanced technologies introduced on the Corvette Stingray: Direct injection, Active Fuel Management, or cylinder deactivation, and continuously variable valve timing.
These technologies – combined with the fuel-efficient multi-speed transmissions, aerodynamic design and lightweight construction – help make the new Z06 surprisingly fuel efficient.

"The supercharged LT4 engine delivers the greatest balance of performance and efficiency ever in the Corvette," said John Rydzewski, assistant chief engineer for Small-Block engines. "It is one of the world's only supercharged engines to incorporate cylinder deactivation technology, enabling it to cruise efficiently on the highway with reduced fuel consumption, but offer more than 600 horsepower whenever the driver calls up its tremendous power reserve."
To maintain the Z06's mass and performance targets, the LT4 engine was designed with a more-efficient, more-compact supercharger. Even with its integrated supercharger/intercooler assembly mounted in the valley between the cylinder heads, the engine is only about one inch (25 mm) taller than the Corvette Stingray's LT1 engine – while delivering nearly 37 percent more horsepower and 40 percent more torque.

The new 1.7L Eaton R1740 TVS supercharger spins at up to 20,000 rpm – 5,000 rpm more than the supercharger on the Corvette ZR1's LS9. The rotors are shorter in length, too, which contributes to their higher-rpm capability – and enables them to get up to speed quicker, producing power-enhancing boost earlier in the rpm band. That boost is achieved more efficiently, thanks to a new, more direct discharge port that creates less turbulence, reducing heat and speeding airflow into the engine. 
The LT4 engine also has several unique features designed to support its higher output and the greater cylinder pressures created by forced induction, including:
Rotocast A356T6 aluminum cylinder heads that are stronger and handle heat better than conventional heads
Lightweight titanium intake valves and machined connecting rods for reduced reciprocating mass
High 10.0:1 compression ratio – for a forced-induction engine – enhances performance and efficiency and is enabled by direct injection
Forged aluminum pistons with unique, stronger structure to ensure strength under high cylinder pressures
Stainless steel exhaust headers and an aluminum balancer that are lighter than their LT1 counterparts
Standard dry-sump oiling system with larger cooler capacity than Z51; used with dual-pressure-control oil pump.
The LT4 will be built in Tonawanda, N.Y., and at the new Performance Build Center in Bowling Green, Ky.
C7 Corvette Z06 Pictures