The Best C7 Z06 Suspension Upgrade | Street & Track Compliant
We have assembled the Best List of C7 Z06 Coilovers and parts to swap for the ultimate suspension upgrade.
Starting at the top, we guide you to prioritize your first upgrades to be on your suspension system.
The remaining items in all are the Best of the Best C7 Corvette Suspension Upgrades for the ultimate suspension for your C7 Corvette.
C7 Corvette Performance Upgrade Q&A Comment
How to Learn More

Click on the "Text Links" or the 


Button to shop and compare product features and details with our affiliate partners. 
C7 Z06 Coilovers | By Chris Trautman
Race Car Handling | C7 Z06 Suspension Upgrade for the Best Handling Suspension System on the Planet
Our cutting-edge C7 Z06 suspension upgrade list is the best way to transform your Corvette. Your Corvette will have both the power and the handling to maximize its potential.  Take the Achilles heel out of your Corvette with these C7 Z06 suspension upgrades. 

1. Cutting Edge, High Precision, C7 Z06 Performance Coilover Suspension Upgrade......
Yes, we know a Corvette is not a Corvette without leaf springs, but as exceptional as this setup has evolved over the years; it's still limited at the core of its design.  Cross talk from one side of your Corvette through the stock transverse leaf springs to the other loaded side of the car causes a lack of feeling or unsettling the cars handling.  If you are reading this you probably already know what we're talking about.  Don't take our word, check out this in-depth article on the C5/C6 generation.
Any high-performance vehicle produced today uses Coilover technology.  Make your Corvette technologically advanced with a set of precision-engineered Coilover shocks.  C7 Z06 performance upgrades are about making your Corvette the best it can be and Coilovers are where it's at!
Switching to Coilover shocks allows you to take total control of your suspension; this set of aFe PFADT (pronounced fought) shocks are fully customizable, enabling you to fine-tune your ride to precisely what you want!  
Key Features:
If you want to be in the top 1% of best handling Corvettes in the world click learn more about Coilover shock features and benefits 
C7 Z06 Sway Bar End Link Upgrade
3. C7 Z06 Upgraded Sway Bar End Links.......
Maintain that sharp handling feel with upgraded sway bar end links.  These end links put an end to the cheap OEM units that fail and cause noise and sloppy corner handling.   
C7 Z06 Adjustable Rear Toe Links
4. C7 Z06 Double Adjustable Rear Toe Suspension Toe Links.....
If you have been through a set of tires or not, take a look at your rear  inside tire wear sometime.  Most likely they are wearing faster than the rest of the tread.  Alignment from the factory is not always the best but the C5-C7 Corvettes struggle to get aligned properly due to lack of adjustment range in the factory suspension adjustment methods.  This is especially noticeable on lowered cars. These upgraded double adjustment links can pay for themselves in tire wear and life.  Do these before your next alignment!
C7 Z06 Upgraded Sway Front & Rear Sway Bars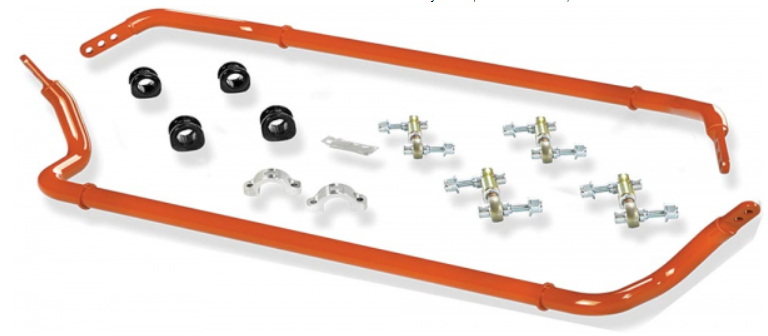 5. C7 Z06 Performance Sway Bars........
We've saved the best C7 Z06 Performance Upgrades for last!  Drive hard into the corner in your Corvette with these upgraded C7 Corvette Z06 Performance Sway Bars.  These high-tech, precision tuned, performance sway bars are the icing on your proverbial suspension upgrade cake.  
C7 Corvette Performance Upgrade Q&A
Not sure how to increase the horsepower or performance in your C7 Corvette? Ask or search our database in this Q&A Section.
Do you have a question or great information to share, ask it here!
What Other Visitors Have Said about C7 Corvette Performance Upgrades
Click below to see contributions from other visitors to C7 Corvette Performance Upgrades...

C7 Z06 Suspension Upgrade