Corvette Covers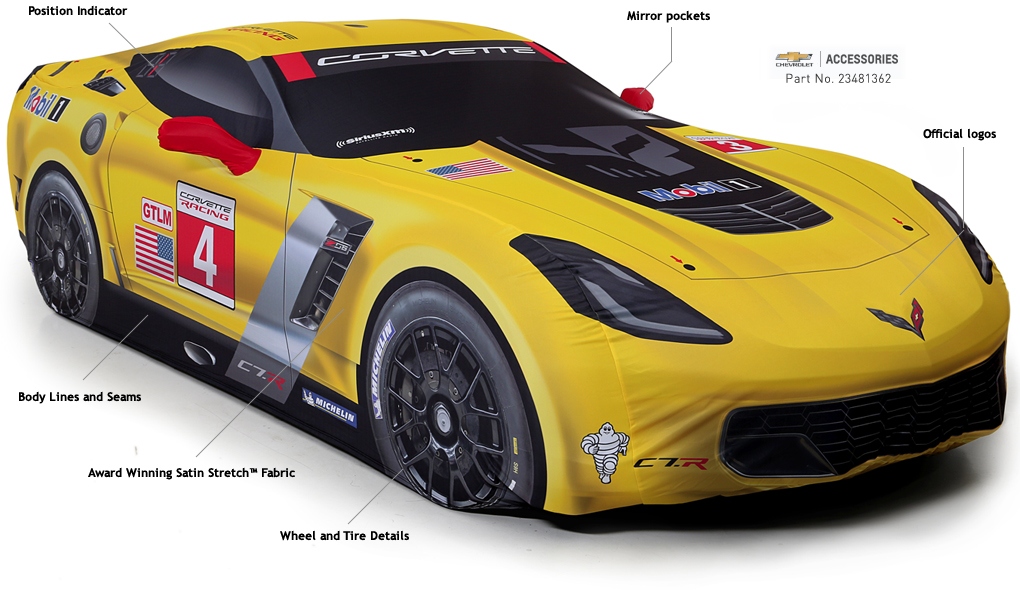 There are several things to consider when purchasing Corvette Covers! The first one is usually price. They range from basic $25 Cover to the best Custom-Fit Car Covers by year with Embroidered Corvette cover with Emblems for $130 and up over a $1000 for the C7.R Cover in the image above!

The second concern is the type. This is usually predicated by its intended purpose. Whether you have a brand new car or one you want to keep looking as good as the day you bought it or a vintage Corvette that you have purchased as an investment, a durable car cover will keep your vehicle looking its very best. Depending on where you live and the conditions that your Corvette will encounter on a regular basis. Here are some of the different car cover types available:

Extra durable car covers: Some car cover types are designed to protect your Corvette from all elements, from snow and ice to dust and sand. They are made to fit your vehicle snugly, and they are extra thick to provide maximum strength and protection. Durable automotive car covers are a good idea if you want to protect your car when it is parked outside, as well as when it is parked in a garage or storage area. They provide excellent all-around coverage. A good example of a durable car cover is the Thick Budge Lifetime Cover. The Thick Budge is made from three layers of Endura Plus fabric, and it provides superior breath-ability and all-weather protection, including thorough UV protection and high water resistance.
Waterproof car covers: Although it's not always possible to avoid precipitation when you're driving, with an effective waterproof car cover, you can protect against water when your car is parked. A waterproof car cover is also a good choice for you if you want a car cover that will protect your Corvette from elements other than water, such as dust, snow, and pollen. Look for a waterproof car cover that is breathable to prevent the mold and mildew damage that can result if condensation gets trapped.
Sun protection Corvette covers: If you live in a sunny state such as Arizona, California, or Florida, sun protection will likely be your main concern as you shop for a car cover. Look for an automotive car cover that is made from DuPont Tyvek material, which will keep your vehicle cool and clean by offering 99.8 percent protection from the sun.
Light and strong car covers: If you want superior protection for your vehicle, but you don't need the very top-of-the-line, extra-durable automobile car cover, a lighter version that still offers excellent protection may be a good option for you. For example, the Ultimate car cover is made from light and strong DuPont material that is soft enough to be gentle on your car yet tough enough to protect against sun, snow, rain, dust, and more. It is a great choice for any environment.
Roll-up car covers: For people who like speed both in their cars and their car covers the roll-up car cover type is a good choice. Roll-up car covers provide excellent protection for your vehicle in only 60 seconds. They are the easiest car covers to put on and take off, and they come with canisters you can use to roll them up. Roll-up car covers are usually made from extra-light and gentle materials that offer superior protection from the sun, rain, and snow.
Standard car covers: If you park your Corvette in a garage and want a light-weight automobile car cover that will protect your vehicle from dust, dirt, and other elements, a standard car cover is probably your best bet. Standard car covers are the least expensive of the car cover types, and they provide good basic protection for your vehicle.
Custom Fit Corvette Covers For All Years and Purpose!
Click here to return to the Home Page from Corvette Covers


Please Share Any Parts Review You May Have?
It can be anything? Please Share it! What you liked or disliked!