Corvette Sound Deadener (Composite) 2 Part System
For C5 and C6 Corvettes (1997- 2013) All Models
$399.00 Sound Deadener Kit + $25 Flat Rate Shipping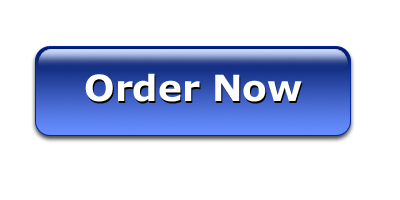 C5 Coupe Trunk Before Install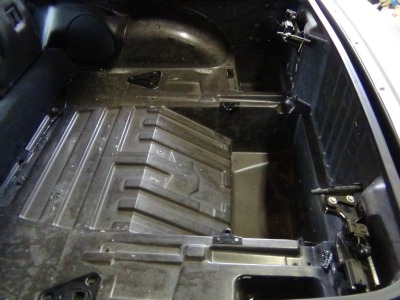 C5 Corvette Trunk
C5 Corvette After Kit Install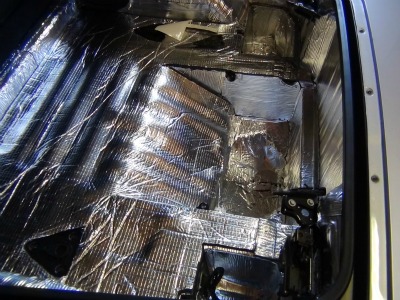 C5 Corvette Sound Deadener Installed


Note: Corvette Sound Deadener installed in the trunk area can reduce 70% of the Corvette Noise generation in your car!
About Our Exclusive 2 Part Composite System
About Corvette Sound Solutions Sound Deadening / Proofing System: We have spent years developing a Corvette Noise solution system and researching materials suitable to install on Corvettes. Corvette noise is generated in a very specific way on Corvettes. The factory, engineers and our competitors chose not to deal with this problem for several reasons. Fortunately we have taken the time and effort to solve these problems for you. Simply stated we are the Maximum Performance solution for your Corvette Noise problem. It does not matter if your problem is road noise or exhaust drone we have the specific solution for your needs. Detailed instructions with pictures show you or your installer exactly where and how to install our product for maximum performance. Click here to read what we have learned....More


Corvette Ultimate Dampener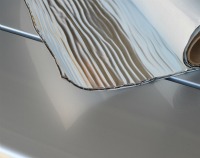 Corvette Ultimate Dampener
(Part 1)
Quantity 1
Corvette Ultimate Dampener Corvette Sound Deadener is 1.6mm (60mil) thick and weighs 0.35 lb/sq. ft in 1 foot wide rolls of a viscoelastic deadener with a supercharged butyl based adhesive. With an aluminum constraining layer and an unique composition containing suspended mineral particles that have been proven to be extremely efficient at the conversion of vibration to thermal energy. Our product meets or surpasses the performance of products like Dynamat. Other competitors may not apply this type of material to the vehicle totally defeating the purpose to reduce structure noise first. Corvette Ultimate Dampener is the Highest performance sound dampening product that can applied on your Corvette today! Products that lay on the top just dont work!

Customizable Installation for Maximum Performance

The Best Deadener Available for Your Corvette

Easy DIY Application (NO Glue or Tape needed)

High-Temp Superior Adhesion Peel and Stick

Kills Unwanted Noise, Rattles, Vibrations

Reduce Exhaust, Engine and Road Noise

Flexible, Plyable, Malleable

Adheres to Most Any Surface Instantly

Sound AND Heat Insulation

No Guessing of Quantities We Provide the Amount You Need!

Corvette Ultimate Absorber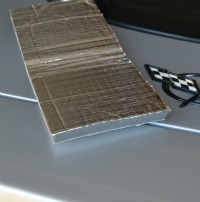 Corvette Ultimate Absorber
(Part 2)
Quantity 2
Corvette Ultimate Absorber is a 1/2" thick Corvette Sound Deadener thermo/acoustic foam with a reinforced aluminum skin. It reduces engine and road noise in the interior of the vehicle and also reflects the majority of the heat. This product aids in sound absorption and reflecting heat. This helps to keep your car quiet and cool.
Blocks Engine Exhaust and Road Noise

The Best Sound Proofing Available for Your Corvette

Self Adhesive Peel and Stick

Easy DIY Application (NO Glue or Tape needed)

1/2" Thick Thermo/Acoustic Foam

Reinforced Aluminum Skin

Reflects the Majority of Sound & Heat

No Guessing of Quantities We Provide the Amount You Need!
Compare with similar Dynamat Kit

Results
Corvette Ultimate Dampener reduces the amount of structure noise. Its just like putting your hand on a drum to reduce the amplitude of noise generated.

Corvette Ultimate Absorber reduces the amount of airborne sound waves able to reach the inside of the vehicle and then your ears. This material acts like wearing hearing protection. Instead of having them on your head your car is wearing them for you!

Together they allow your car to receive the maximum performance Corvette sound deadener and sound reduction available on the market today. Depending on application over 12 decibels in sound reduction could be realized. This is a claim very few can make. This kit is found exclusively on this website. We are the creators of unique products designed to solve the special needs of Corvette enthusiasts and owners.
Application
Designed for 1997-2013 C5 and C6 Corvettes: Convertible, Z06, ZR1, Grand Sport. Will work great for Pre and Post C5 Corvettes but obviously the instructions would be N/A.  The method of application would be the same.
What You Get
50 sq feet of Corvette Ultimate Dampener. Enough to cover the whole trunk area with plenty left over to customize. You could double up to compensate for louder exhaust or engine modifications. You may also wish to apply on the inner doors and outer wheel wells to reduce road noise for example.

2 sheets of Corvette Ultimate Absorber that measure 54" x 36" each for a total of 27 sq. ft. and only weighs 6 lbs.
Compare to Dynamat

DIY Instructions for C5 and C6 Corvette with 7 pages of color pictures and specific how to directions.
FREE SHIPPING! Lower 48 States

Tools Needed
Tools Need to Stop Corvette Noise in its tracks!

Sharp Knife
Disposable blanket or pad to sit on
Optional slotted screwdriver and ladder
Dont Want to Install It! No Problem Find an Installer in Your Area!
We recommend using Angies List for qualified and recommend installation shops in your area. This is the best solution we could find to help those that wish not to install our products. Our suggested time estimate for installation is 4 hours. Angies List is a great resource for first hand business reviews by actual customers of all business types. Read reviews and decide which shop fits you best!
Benefits of Our Corvette Sound Deadener System
Most important of all its easy for the novice DIY or Shop to install, which reduces time and expense

Composite system for vibration and sound absorption is unparalleled in its performance to stop Corvette noise

Everything you need no guessing of quantity or reordering more materials we have done all the figuring for you

Installation is hidden under the carpet and maintains stock appearance

Keep your noisy RunFlat Tires and don't compromise safety, cost and convenience just to stop Corvette noise

Reduces Exhaust Drone and Fatigue that Corvettes with aftermarket systems are known for

Exhaust note brought to enjoyable levels inside but not muted

Be able to hear on the Cell Phone again

Highest Performance system and materials available that reduces Corvette noise

Reduces engine, road noise and vibration in the interior of the vehicle

Reflects heat to reduce cabin interior temperatures improving your A/C system Performance

No loss of storage compartment use like competitors coverup systems

+$25 Flat Rate Shipping Lower 48 Only




Customer Reviews
Denny Reed
Battle Creek, Michigan
It definitely makes the vehicle seem more solid. My wife says it reminds her of carpeting a room with wood floors, it just seems warmer and cozier.

You cannot hear the exhaust or the irritating rear tires singing.
Additionally, one can actually play the radio at a reasonable level and still carry on a conversation with your passenger.

If you are going to cruise or travel in your Corvette, I would definitely recommend.

I think percentage wise it has decreased my road noise from the seats back 90%. However, you can still hear the front tires and frontal/window air noise. But the car feels more solid, less rattles and less hollow feeling.

Anyone can install this kit with the instructions and illustrations. Only thing you need is a Stanley Knife and a ruler.
I would have to say the most difficult task is knowing how to remove and replace the existing carpet and panels but thats all in the instructions.

What I like the most about kit is the relief from the constant whine of the rear tires.
$399 + $25 Flat Rate Shipping Lower 48 = $424
Designed for 1997-2013 C5 and C6 Corvettes: Convertible, Z06, ZR1, Grand Sport.
For Information and Ordering of Corvette Sound Deadener Call 1-855-326-7838
$399.00 Sound Deadener Kit + $25 Flat Rate Shipping
$424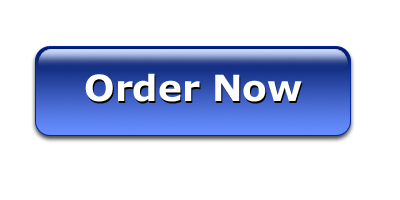 Shipping Via Fed EX Ground
Instructions Included
Toll Free Support 1-855-326-7838
Kits are in-stock and ready to ship!
PayPal Verified Seller









Click here to return to the home page from Corvette Sound Deadener