Corvette Horsepower Rating Timeline By Year
Corvette Horsepower Table of Contents:
1953-54 Corvette Horsepower
150-horsepower, 235-cubic-inch
1955
195 horsepower 265 CI V8
1956
265-cubic-inch V8, Increased to 210 horsepower
1957
Corvette engine grew to 283 cubic inches and 220 horsepower, breathing through a single four-barrel carburetor.
Options:
The 283 could be had with dual-quad carbs rated at either 245 or 270 horsepower or, best of all, with Rochester mechanical fuel injection. The Fuel injection "Fuelie" on top of that 283 increased its output to either 250 or 283 horsepower.
1958-59 Corvette Horsepower
283 small-block base single four-barrel version now making 230 horsepower, dual-quad versions were rated at 245 and 270 horsepower and the fuelie engines now made either 250 or 290 horsepower.<br>
1960-61
Fuel-injected versions grew to 275 and 315 horsepower.

1962
V8 increased 327 cubic inches. The base four-barrel engine now put out 250 horsepower with higher output versions available in 300-340 horsepower versions. The dual-quad option was dropped, but the fuel injection system was back and it was now rated at 360 horsepower.

1963 Start of the mid year Corvettes
327 V8 was still rated at 250 horsepower. On the options sheet were 300- and 340-horsepower four-barrel, and 360-horsepower fuel-injected versions of the 327.
1964
327 V8 was still at 250 horsepower. Optional 360-horsepower four-barrel 327, and the fuelie motor was now rated at 375 horsepower.

1965 Corvette Horsepower
327 V8 250 horsepower. Optional: The "L78" 396 appeard and made 425 horsepower. As for the fuel-injected 327's— 1965 would be its last year.

1966
396 lasted only one year in the Corvette as it was superseded by 427-cubic-inch. Base 327, now rated at 300 horsepower, a 350-horse version in a single four-barrel, the "L39" 427 making 390 horsepower and the "L72" 427 rated at 425 horsepower.

1967
Base 300-horsepower 327 small-block V8 topped by a four-barrel carburetor. "L88" 427, which used aluminum cylinder heads and 12.5-to-1 compression ratio to make somewhere north of 500 horsepower while wearing a huge 850-cfm four-barrel carburetor (though Chevy would, disingenuously, only admit to 430 horses). The L88 option upon ordering it automatically eliminated the heater, radio and fan shroud. The intent was obviously racing and only 20 L88s were ever built. Today they are the most desirable of the first Sting Rays.

Also new to the Corvette option charts was an "L68" 427 rated at 400 horsepower and the L71 427 rated at 435 horsepower and featuring three two-barrel carburetors ("tri-power").

1968
300-horsepower 327 small-block V8 topped by a four-barrel carburetor. The optional engines included a 350-horsepower 327 and all the big-block 427s from '67 including the awesome 500 horsepower L88."L68" 427 rated at 400 horsepower and the L71 427 rated at 435 horsepower and featuring three two-barrel carburetors ("tri-power").

1969 Corvette Horsepower
Replacement of the 327-cubic-inch small-block V8s with new 350-cubic-inch versions. As with the 327s, the 350s were rated at 300 horsepower in base form and 350 horsepower in the optional "L46." The 427s also returned carrying the same power ratings as '68's. ZL-1 was a limited production option and only two of the 585-horsepower ZL-1s were produced.

1970
Base 350 300 HP. The "LT-1" 350 370-horsepower. Two 454-cubic-inch big-block V8s — a 390-horsepower "LS5" wearing a four-barrel carburetor and a tri-power equipped "LS7" making a claimed 460 horsepower although non where sold.

1971 Corvette Horsepower
Base 350 dropped to 270 horsepower because of emissions. LT-1 350 dropped to 330 horsepower. The detuned LS5 454 now made a mere 365 horsepower. Gone was the LS7 454 and in its place was an "LS6" 454 four-barrel V8 rated at 425 horsepower.

1972
switch from SAE gross to SAE net power ratings. So the base 350 now produced a 200-horsepower rating, the LT1 made just 255 horsepower, and the sole big-block, an LS5 454, could only do 270 horsepower.


1973 Corvette Horsepower
Base 350 now rated at 190 horsepower and a new optional "L-82" 350 made 250 horsepower. The sole 454 was an "LS4" rated at 275 horsepower.

1974
Same HP as 1973 give or take a few ponies. Last year for the big-block V8.

1975
Base 350 V8 making a hideous 165 horsepower or the L82 making 205 horsepower exhaling through a catalytic converter.

1976
The base "L48" 350 was now rated at 180 horsepower as engineers were beginning to figure out the intricacies of emissions regulations. The L82 350 jumped to 210 horsepower. Both engines breathed in through four-barrel carburetors.

1977
Same HP and engines as 1976.

1978
The base L48 350 was now rated at 185 horsepower and a new dual-snorkel intake bumped output of the L82 version to 220 horsepower.

1979
A dual snorkel air cleaner now fed the Base L48 350 and that boosted output to 195 horsepower. The L82 was treated to a new cam, larger valves, a higher-compression ratio and a more efficient exhaust system which all combined to push the engine to 225 horsepower.

1980
Base L48 350 now made 190 horsepower and the L82 was rated at 230. Californians were stuck with only a 305-cubic-inch V8 making 180 horsepower.

1981
A new, 190-horsepower "L81" version of the 350 V8 was the only engine available.

1982
"Cross-Fire Injection." This injection system boosted output of the L81 350 to 200 horsepower.

1983
N/A Since no Corvettes were made.

C4 Corvette Horsepower
1984 Start of the C4
350 V8, again equipped with Cross-Fire throttle body fuel injection and now rated at 205 horsepower.

1985 Corvette Horsepower
Tuned Port Injected (TPI) version of the 350-cubic-inch (now more commonly referred to as a 5.7-liter) small-block for 1985. This vastly more efficient induction system bumped output of the V8 to 230 horsepower.

1986
Same as 1985

1987
Hydraulic roller lifters to the L98's valve train boosted its output to 240 horsepower.

1988
New aluminum cylinder heads and a revised camshaft boosted the L98 to 245 horsepower.

1989
Same as 1988

1990
In the ZR1 the Lotus-designed, Mercury Marine-built, all-aluminum, 5.7-liter, DOHC, 32-valve LT5 V8 made 375 horsepower. The L98 made 245 horsepower.

1991
Same as 1990

1992 Corvette Horsepower
LT5 V8 made 375 horsepower. A new LT1 was rated at 300 horsepower thanks to significant revisions to the cylinder heads, accessory drives, cooling system and fuel injection.

1993
LT1 was 300 horsepower The LT5 horsepower went from 375 to 405 — in real-world terms (accounting for the difference between the old SAE gross and current SAE net rating methods)

1994
Same as 1993

1995
Same as 1994 Last year for ZR1 in the C4.

1996
LT1 changed to the "LT4" that increased to 330 horsepower.
C5 Corvette
1997 First year C5 First year for the Gen III V8 engine
LS-1 345 HP

1998-2000
LS-1 345 HP

2001
LS-1 Went to 350 HP LS-6 The 350 Cubic inch put out 385 HP

2002
LS-1 350 HP LS-6 Improved more to 405 HP.

2003-2004
LS-1 350 HP LS-6 405 HP
C6 Corvette
2005
New 6.0-liter "LS2" V8 is the sole power plant. Output is 400 hp.

2006-2007
Base 6.0-liter "LS2" 400 HP A New LS7 427-cubic-inch, 505-horsepower engine in the Z06.

2008
LS3 6.2L 430-436 HP LS7 427-cubic-inch, 505-horsepower.

2009-2013 Corvette Horsepower
LS9 6.2L supercharged small-block engine powers the ZR1 @ 638 HP
LS7 427-cubic-inch, 505-horsepower.
LS3 6.2L 430-436 HP
C7 Corvette Horsepower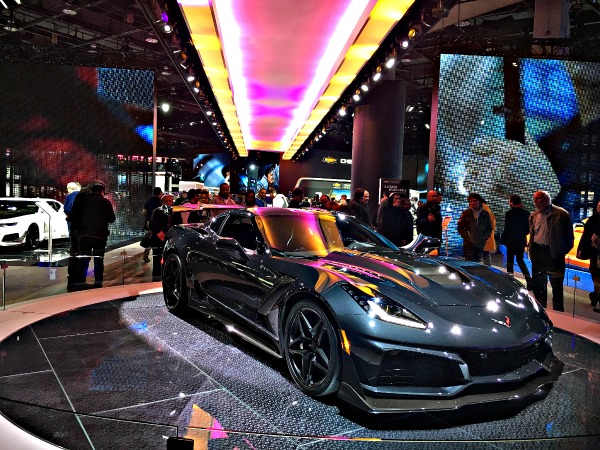 2019 Corvette ZR-1 755HP (The King of Horsepower)
2014-2019 Stingray/Grandsport
LT1 6.2L 460HP
2015-2019 Z06
LT4 6.2L 650HP
2019 ZR-1
LT5 6.2L 755HP
C8 Corvette
2020 LT2 495 hp (NPP Exhaust) 470 lb-ft
Click here to return to the home page from Corvette Horsepower