2020 Corvette C8 
Corvette C8 The First Mid Engine Corvette

On April 11th, 2019, GM Officially set the Corvette C8 release date for the long-awaited Mid Engine Corvette C8. This proclamation fulfills the dreams of many Corvette enthusiasts and engineers for the last half-century.
GM CEO Mary Barra announced this news at the Siller Foundation charity gala in New York. 
A short ten months later, in February, slightly behind schedule, the 2020 C8 Corvette production began.
You May Also Like These C8 Corvette Links:
C8 Corvette Performance Specs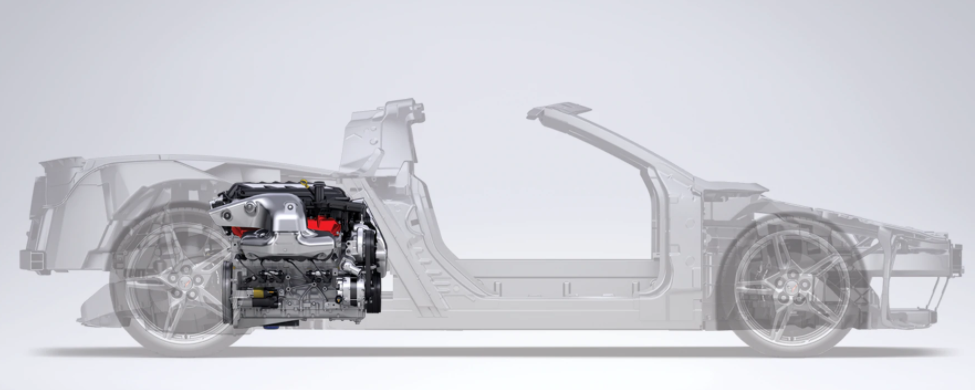 490-495 HP
470 ft-lb of Torque
0-60 2.9 seconds
Top Speed 194 mph
15 mpg city
27 mpg highway
500 mile cruise range
3647 pounds (195 pounds more than C7)
Weight distribution 40% Front, 60% Rear



Top Clean Sheet Design Features
Engine location changed to Mid-engine position

Coilover shocks instead of leaf springs
8 Speed dual-clutch transmission, no traditional transmission options available (Auto or Manual)
Addition of an optional front suspension lift to get you over those speed bumps
Addition of a frunk (front trunk)
The driver sits 16.5 inches further forward
A right-hand drive option is available for the first time in a Corvette

The engine sits one inch lower compared to C7 Corvette
 The Mid Engine Corvette will compete against other Mid Engine Sports Cars such as Porsche and Ferrari. It will not only win races but sales figures also. 
The Mid Engine Corvette will be a third of the price compared to a Ford GT. The Mid Engine Corvette will be winning on Sundays and leave the others to be an overpriced slower option! Yeah, we're a little biased!
The Corvette C8 will disrupt the Mid-engine sports car world's landscape, as the first-generation mid-engine supercar evolves and becomes even better. The initial reception claimed an outstanding success. 
The production sold out for all 2020 models. Due to the global pandemic that struck in 2020, the production supply chain was (is) in question for 2021 models. 
The C8 Corvette investment was a good one. Not only for GM but for early 2020 owners. Dealer markups have seen low six-figure prices. This demand indicates several positive indicators for the future. A lucky few were able to capture the market upswing with properly timed purchases.  
C7 Corvette ended production in July 2019, and the Mid Engine Corvette started rolling out of the factory in January 2020. The front-engine Corvette is officially dead, for now.
C8 Corvette Videos
Corvette C8 Pictures
LT2 Corvette Engine for the 2020 C8
Return to the Home Page from Corvette C8