Corvette Tech Help!
Corvette Buyers Owners Guides
Fate Favors the Prepared Bookmark this Page Now!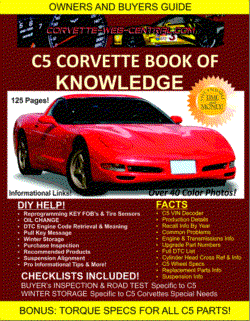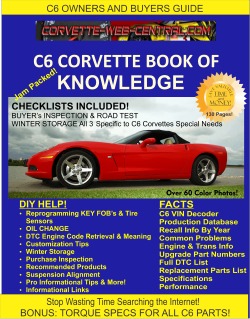 ✓ Printable Torque Sheets 6 pages for almost all Components!
✓ Recommended Products to Protect & Improve Convenience!
✓ VIN Decoder
✓ Production Information
✓ Common Problems & Repairs
✓ Routine Maintenance & Required Parts
✓ Upgrade Part Numbers
✓ Recall Information by Year
✓ Printable Buyers, Winter Storage & Road/Inspection Checklists!
✓ Informational Links and tons of color photos
Over 120 Pages Much much more then we can list here! Over 26,000 words!

---
Free Technical Advice & Help from Corvette Ask!
Click Your Button Below to Be Taken to a Page to Post Your Question