Detroit Auto Show
Detroit (NAIAS) Auto Show Coverage. See Below We Have Uploaded Images Of The Corvettes And Other Great Cars From The Show!!!!!!!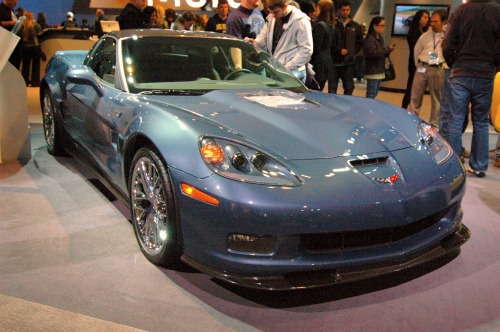 The 2011 Detroit Auto Show Coverage! We got them! After a long day of taking pictures and driving we have them posted! No snow storm was going to stop us!
Fending off car lovers and photo bugs from around the world we elbowed or um politely maneuvered the chaos! One by one car manufactures of other countries disappeared in our trail of bodies across the hall floor! Our hopes of all models being present were destroyed as we approached. Sadly GM only had 2 Corvettes present. The great selling Grand Sport and the King himself the powerful Nürburgring record setting ZR1! The crowds love the two brothers! GM allows people to sit in the Grand Sport which brings a thrill to many young people who will someday probably own one!
It was also painfully obvious that the economy is hitting the auto makers hard! Lots of budget cars and stuff that's just not cool! Still thousands were present on this first day of the 2011 Detroit Auto Show. Regular ticket prices are $12.00 for Adults and $6.00 for children and those kids over 65! The show runs January 15 to the 23rd. Just check out naias.com for more info!


2011 Detroit Auto Show Posted 1/16/11!
Click here to go from the Detroit Auto Show to our Corvette Picture Gallery
Please Add Your Own Corvette Pictures!
Share your Vette with us!