Best Wheels for C4 Corvette | Gallery | Comparisons | Modern Styling  
The Best Wheels for C4 Corvette start with the proper fit.  Care has been taken to ensure the wheels presented here actually fit your C4 Corvette.  Its hard enough to find wheels you like, even harder to find ones that fit.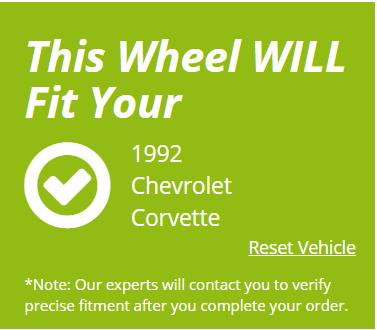 Look for This Graphic to Guarantee Fit
Look for this graphic after you enter your year and model.  You will be able to do this after you click our exclusive C4 wheel partner AudioCityUSA product links below.  


C4 Chevrolet Corvette Wheels and Rims for Sale
from:
Audiocityusa
The Best Wheels for C4 Corvette Wheel Information
Picking out the Best Wheels for C4 Corvette can be challenging.  The most popular C4 wheels on the market today can be found here on our Best wheels for C4 Corvette page.  Some things to consider during your selection:
Wheel diameter
Offset
Back spacing
Tire choice
The 1984 C4 Corvette was possibly one of the first American vehicles to require high offset wheels.  This higher offset has become the standard for all vehicles.  This is good news for C4 owners since they can find modern wheels for their classic corvettes.

Centerline – Backspace = Offset
Example: Let's say your wheels is 10 inches wide, your centerline is 5 inches. For this example let's say your backspace is 4 inches. 5 – 4 = 1 and 1 inch in millimeters is -25.4 so this means your wheels offset is -25mm (always round). In the case where the backspace is higher than your centerline your offset is positive.
Return to the Home Page from Best Wheels for C4 Corvette