Corvette Mods Home
Corvette mods is your place for
great modifications, and parts suppliers for LS1, LS2, LS6,
LS7, LS9, Z06, ZR1, C5, and C6 Corvette's.
My First choice for a Corvette mod would be an intake. The best choice would be the F.A.S.T intake from www.fuelairspark.com. They have 3 different sizes 92/90/78mm. Depending on your application you will need other items to make this work so ask them for help if you don't know. A few of the things you may need are new fuel rails and a larger throttle body. You could use a new style throttle body off a C6 corvette or an LS2 with the 90mm opening. This would be the case if you had a C5 Corvette. Make sure and get the adapter harness so you can run this setup. FAST will most likely not have this or the throttle body. The TB's they sell are more for cable operated throttles. This intake would be for your no holds barred gear head who is going to be adding or already has big HP and wants to get the full potential. It has some Cons though. One is the cost so know what you want to spend and what you will get in return for HP. On that note they claim 20 hp over an LS1 intake. You may get more if you have other items like a supercharger, turbos, cam or nitrous. Depending on the intake you get you may have to have your car re-tuned.
Ok from going from wild to mild Corvette mods. This would include a cold air induction system, ram air, air filters and items like this. I m not trying to sell you anything here. I have tried just about all of them. That should say something in itself. I had a K&N and loved it then went to a smooth bridge and then I added a ram air system all on my C5. Well I took the ram air off the car and installed a supercharger. My seat of the pants meter did not like the performance gains that it got from the ram air system. I took my losses sold it and never turned back. Moral of the story cold unrestricted air. No fancy gimmicks.
Throttle body's I m still undecided about. If you get a good one I'm sure they can help. But without the help of a properly sized intake I think it would be a waste of money. You could also run into tuning issues if you want to stay stock on the tune. I would recommend a Nick Williams as I have heard that his are very good.
If you have an older C5 a great Corvette mod you could do is upgrade to an LS6 intake. All Vettes did not start coming with them until around 2002. An easy way to tell if you have one is with it off is to look at the underside of it. The underside floor is flat instead of having a curve to it. Its to hard to tell from the P/N's since they differ quite a bit. You could also see with the use of a mirror and a flashlight between the valley cover and the intake for this. Inspect the coolant vent system. The vent system for the heads is different on the LS6 intakes. The back left and right heads have plugs. Where the LS1 system has vent lines running all the way back in an "H" pattern from the front of the engine. So if you do get an LS6 intake you will need 2 plugs and a new front cross over line.

Intake Systems
Essential Books for the enthusiast who wants to get the most performance!
The books below are essential for the enthusiast who wants to get the most performance out of Corvette engine designs but is only familiar with the older Chevy small-blocks. Most books have Full-color coverage includes everything you need to know about Corvette engines, including the difficult engine removal and installation, simple engine bolt-ons, electronic controls for the Generation III engine, and detailed engine builds at four different power levels.

SuperCharger
Although some manufacturers claim a specific horsepower increase, superchargers actually add horsepower as a percentage gain (percentage of an atmosphere). Assuming an engine with a compression ratio of around 9:1 running pump gas,if a supercharger gives your engine 14.7 psi of boost (another atmosphere) that will essentially double the output of your engine, everything else being equal. After adjusting for thermal and mechanical energy transfer, if an efficient centrifugal supercharger is generating 7.5 psi (approx. 1/2 an atmosphere), you will see around a 35-40% gain in horsepower and torque at your non-supercharged maximum horsepower rpm. If detonation forces you to use an ignition/timing retard system, you will of course see less of a gain because backing off several degrees of timing will greatly reduce an engine's power output. At higher boost levels, the heat generated by compressing air will produce diminishing returns as the boost is increased, although the use of intercooling or racing fuel can avoid this scenario of diminishing returns. Assuming the use of intercooling to run higher boost levels while maintaining reliability, a 100% increase can generally be achieved at around 17 psi on an engine with 9:1 compression running pump gas. Click here to learn more about Superchargers



Modified Corvette Videos
Engine Performance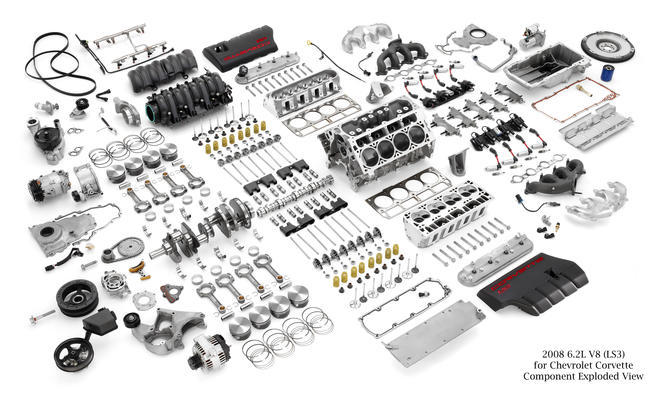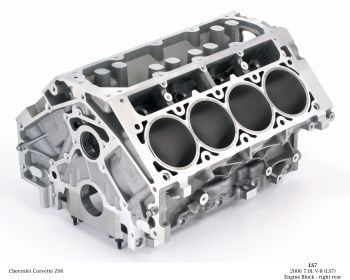 Engine performance for C5, C6 Corvettes.
Computer tuning, cylinder heads, engine blocks,
camshafts, power adders like supercharging,
turbocharging and nitrous.

Computer Tuning
With Corvette mods to engine or components changed will most likely need re-tuning of your cars computer. Now I only say this because I have too since there is so many variables. This might not always be the case so do your homework. You should be open for it if you want to make a lot more power. There is many ways today to do this. You could do it yourself if you are willing to spend many hours learning at the expense of your car and your time and gas. Or you could take it to somebody and have them tune it for you on a chassis dyno. I would suggest this option because most likely they have a program already proven for your chosen performance upgrade. They will most likely use either LS1 Edit, EFI Live, or HP tuners. The next question is where do you go? Great places to go for Corvette mod's
Indiana:
Lingenfelter Performance
Dynotech Engineering
California:
A&A Corvette
Texas:
MTI Motorsports Technology Inc.
LG Motorsports
New Jersey
ECS East Coast Supercharging
Camshafts
Another great Corvette mod is a Camshaft! The Camshaft is the heart of the engine. Selection is crucial for optimal performance. Things to consider is how you drive your car? Is it an Automatic or Manual? Daily driver or race car? Comp Cams pretty much makes all the performance camshafts for all LS Gen III or IV series engines. Say if you bought a Lingenfelter LS series camshaft it would be ground and made to their specs from Comp Cams. Click here for Comp Cams LS Camshafts (browser will open a new window)

The only one who can pick the camshaft is you. Everything is a compromise when it comes to doing a Corvette mod and picking a camshaft. Some compromises are small some are big. If you want lots of power you may have to live with a choppy idle. If you are like me you love that sound anyways. To install one is a pretty involved task. You have to remove the push rods, water pump, crank pulley, front cover, oil pump, and also the timing chain. See our tags at the bottom of this page for help.

Click Here to See Great LS Series Cylinder Head Info

A well tuned camshaft can fall into several profiles. Here are some examples of camshaft profiles with applications. But first click on this if you need some background on the numbers. Click here for Camshaft Theory

It is our recommendation that a great Corvette mod would be to change your pushrods and springs with any cam upgrade. I also changed my timing chain with an improved set for better durability. Depending on the cam you get I would also recommend changing the valve springs on a recurring basis. The springs are subjected to higher lift and usually more RPM. Trust me this is one thing you don't want to loose at high RPM. In aviation they have life limits. This should be one of those things that should be replaced every so often as a good practice. Don't go overboard and I know its not easy but better safe then sorry.


Do It Yourself Corvette Mods
This is a great do it yourself starting point for C5 Corvettes. Go to the end for the link
C5 Headlight gear replacement
Installing Clear Corner Lights
Connecting wideband via EGR or A/C Pressure in HP Tuners
Reuse original shift boot with C6Z06 shifter/knob
HOW TO PUT 99-02 PCM into 97-98 Corvette WITH PICS!
How to replace TPM sensor batteries
Narrow band oxygen sensor emulation with a LM-1 wide band
AC Refrigerant charge level
Intake manifold Removal
How To Fit C6 Fender Guards on a C5
DIY Trunk Lid Liner
Sun Visor Fix
Heated Seats Installation
Retractable Antenna Fix
How to fit a Pioneer AVIC N1
Z06 HID Install (Low Beams & C5 Fog Lamps)
Simplified fuel pump replacement
Simplified differential output shaft removal
Outside mirror repair
Installing interior electrochromic mirror
Hazard switch replacement
Door lock relay replacement
Repair dim HVAC controller
How to fix leaking turn signal housings
Headlight gear replacement
Rocking Seat Fix
How to install a FAST 90/90
DIY Rear Hatch Mechanism fix.
How To Refurbish a C5 Hoodliner
Door lock / window fix
Z06 screened Front License Plate Mod
Popping rear axle fix
Corbeau A4 Seat and Rail Installation
DIY Exhaust Hanger repair - without ordering the hanger.
Front License Plate Fresh Air Screen Mod
Click here for C5 Corvette Do it yourself source for above
Drivetrain
Corvette mod Transmissions, Corvette mod rear ends, axles, driveshafts, selections and uses and performance products.

Click here to go to the Differential Transmission Swap Page

Click here to return to the Home Page From Corvette Mods


Have A Great Story About A Corvette Mod You Would Recommend!?
Do you have a great story about this? Share it! For example: Rear mount turbos work better then you might think and are easier to install. Dont forget you can post pictures also.