Best Battery for C7 Corvette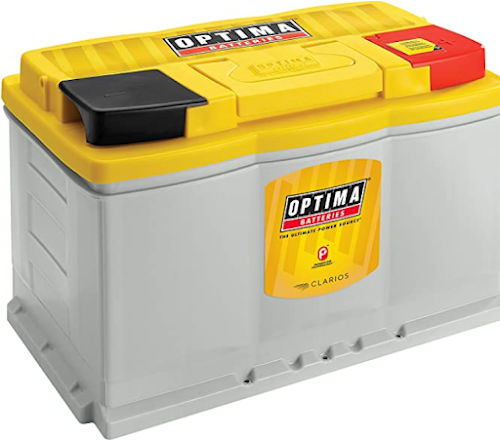 Best Battery for C7 Corvette
What is The Very Best Replacement Battery For C7 Corvette Battery?
The very Best Battery for C7 Corvette battery fixes all of the deaded C7 Corvette battery issues, like battery leakage and discharge reliability problems, also known as a C7 Corvette Dead Battery.  Leakage can cause damage to your fiberglass trunk.
Optima Yellow Top DH6 and other replacement batteries of this type are built using AGM construction.  This type of battery  construction uses saturated (Absorbent Glass Mats) rather than gelled or liquid electrolyte. AGM batteries will not leak acid.  They are also less susceptible to vibration since the lead plates are not free to move in the electrolyte. 
Why did we choose the Optima DH6 as our "Best Battery for C7 Corvette" Comparison?
Besides the comparison grid below, we love the Optima DH6 selection for these reasons:
It's Exclusive Dual-purpose rating!  The biggest issue with C7 Corvette battery requires you to plug them into a battery tender almost continually. If you don't drive the car every other week, the battery can go dead. The advantage of a dual-purpose battery is it's more tolerant to deep discharge cycles without reducing the battery's overall life. The DH6 is capable of 300+ discharge/recharge cycles. While we still recommend a quality battery charger and routine maintenance of charge state, the DH6 Optima gives you a little cushion and tolerance for those times you forget or get distracted.  Optima is the only brand that offers the dual purpose rating AGM battery for the C7 Corvette battery.
AGM Design, no one wants battery acid to leak onto the fiberglass construction of our corvettes trunk and ruin the car.
The combined features of the Optima gives your C7 Corvette battery life the best possible chance of a long life.
2014 to 2019 C7 Corvette AGM Style Battery
Are C7 Corvette batteries AGM from the factory?
Answer: No, GM used traditional flooded lead acid batteries in all C7 Corvettes.  Why does this matter?  If you change your battery from a flooded cell design to an AGM style battery you will have an unused vent tube in your battery compartment.  This is of no concern, simply stow the vent tube to the side of the battery compartment.  

In our quest to find the Best Battery for C7 Corvette, we compared an Optima, a Delphi, and Odyssey brand batteries to see how they match up. All three batteries are winners, but have different price points to meet your budget.  All three are AGM construction and fit for C7 Corvette battery replacement applications; we will not recommend any other battery type due to the lesser construction technology.  All three of these batteries are an upgrade from the flooded lead acid battery currently in your car if its original.  It's AGM or nothing, just stow the OEM battery vent tube!
Best Battery for C7 Corvette key features and why these 3 battery brands are in our top recommendations:
AGM construction
Dual purpose construction (Optima only)
Durability
Proven record of performance
Leak proof
Vibration resistant
Modern looks
36 month warranty
Still Not Sure Just Ask: C7 Corvette Performance Upgrades Q&A
How Much Do C7 Corvette Batteries Cost?
Typically C7 Corvette batteries will cost from $200-300 dollars for a high quality long lasting battery.  The biggest factor in battery pricing is the type of construction and then length of warranty coverage.  Like anything you can find cheaper lower cost options but you will most likely not have the service life of the batteries we recommend here.  
Best Battery for C7 Corvette Top Batteries | Years 2014-19
What Are C7 Corvette Battery Sizes or Groups?
2014-2019 C7 Corvette Battery Size by Groups, All Models, Groups H6 or Group 48 (Interchangeable)
2019 Corvette Battery Size: Groups H6 or Group 48 (Interchangeable)

2018 Corvette Battery Size: Groups H6 or Group 48 (Interchangeable)

2017 Corvette Battery Size: Groups H6 or Group 48 (Interchangeable)

2016 Corvette Battery Size: Groups H6 or Group 48 (Interchangeable)

2015 Corvette Battery Size: Groups H6 or Group 48 (Interchangeable)

2014 Corvette Battery Size: Groups H6 or Group 48 (Interchangeable)
Notice: This page contains affiliate links and pays a small portion towards website operations and allows us to purchase more products to review.
Optima DH6 Yellow Top Is the Best Battery For C7 Corvette Winner!
Compare

Winner

Optima DH6 Yellow Top

Third Place

Delphi BU9048 MaxStart AGM

Second Place

Odyssey Battery 0752-2020

Price Approximate

Reviews

Pros

AGM
Reliable
Designed for C7 Corvette Needs
Dual Purpose
800 CCA
Best Reserve Capacity

AGM
Reliable
Lowest Cost Alternative to AC Delco

AGM
Best Warranty Full coverage
Best Reviews
Longest Life

Cons

Most Expensive
Heavier than other batteries 

Cool Features

36 Month Warranty
Use Optima Charger to extend warranty another year 
Specifically built for use in a C7 Corvette
Dual Purpose

36 Month Warranty


36 Month Warranty 100% Replacement


Bottom Line

 Battery built specifically  with  reserve and normal capacities to cover the specific needs of the C7 Corvette.

Best Battery for C7 Corvette!

Modern looking install with best features at a reasonable cost

Ultimate Performance, Warranty and service life
What Is The OEM C7 Corvette Battery?
Best Battery for C7 Corvette (OEM Style)(Upgraded AGM)
What's the OEM C7 Corvette Battery Type?
The Corvette C7 OEM battery type and brand originally found in C7 Corvettes has evolved and changed over the last couple of years. If you were to look in a parts catalog for the original AC Delco battery found in your C7 Corvette the part number has been superseded four times or more and is no longer available. 
The correct battery size is Group 48 or H6. That number is a standardized numeric fitment from Battery Council International (BCI). 
We have found this upgraded AC Delco Group 48 AGM battery for you.  The list price on this battery ranges from $180-220  Just remember this is an AGM battery so most fitment selection tools may not like this for the C7 Corvette, but it should fit.
Remember to stow the vent tube on all AGM battery installs since the original battery was flooded lead acid.  With AGM batteries you no longer need the vent tube.
What Batteries Do We Own?
We've owned the Optima brand of batteries for over 15 years. We have found them to be very reliable, durable and constructed very well.  Early on we did accidentally discharge them too many times (because we did not own the charger) and they ultimately died early.  We relied on disconnecting the battery when the car sat, major pain in the but!  Since we starting use the battery tender all has been good!
We have the OEM AC Delco still in service in our 2015 Corvette Z06 but suspect its on its last legs after 5 years and 33k miles.  If cost was a factor we would buy the AGM AC Delco version. 
The Best Battery for C7 Corvette is?
Ultimately we will be changing to the Yellow Top DH6 when the OEM AC Delco finally quits. FYI the "D" in DH6 battery group designates its a dual purpose H6 battery so it still falls under the H6 Group!
Why Do C7 Corvette Batteries Go Dead?
Your Corvette battery issues will start when it sits for extended periods of time. Most of us Corvette owners are particular when we drive, no rain or snow, so weeks can go by without starting or charging the battery by driving the vehicle.
Any C7 Corvette left off a charge device for more than a week is asking for trouble.
The onboard computers draw energy from the battery 24/7.   This draw comes from chassis items such as running the door lock key FOB receiver waiting for a request to unlock.   
So what do you do?
Why You Need A Corvette Battery Tender!
Every late model Corvette needs a battery charger.  Newer Corvettes have so much parasitic draw from all of the computers, a perfectly new battery can be dead in less than two weeks!  The GM realized this and started providing this as an RPO option in late 2010 for Corvettes.  Get the same charger here!  
Great info on Lead Acid Batteries at Battery University if you want to learn more about battery technology!
Get a good battery charger, see below or see our battery tender comparison page
C7 Corvette Performance Upgrade Q&A
Not sure how to increase the horsepower or performance in your C7 Corvette? Ask or search our database in this Q&A Section.
Do you have a question or great information to share, ask it here!
Return to the C7 Corvette Home page
Return to the Home Page
Check out our Corvette Battery Page
Optima Marketing Video
Tips on How to Change a C7 Battery
.
Best Battery for C7 Corvette