LT4 Z06 Corvette Muscle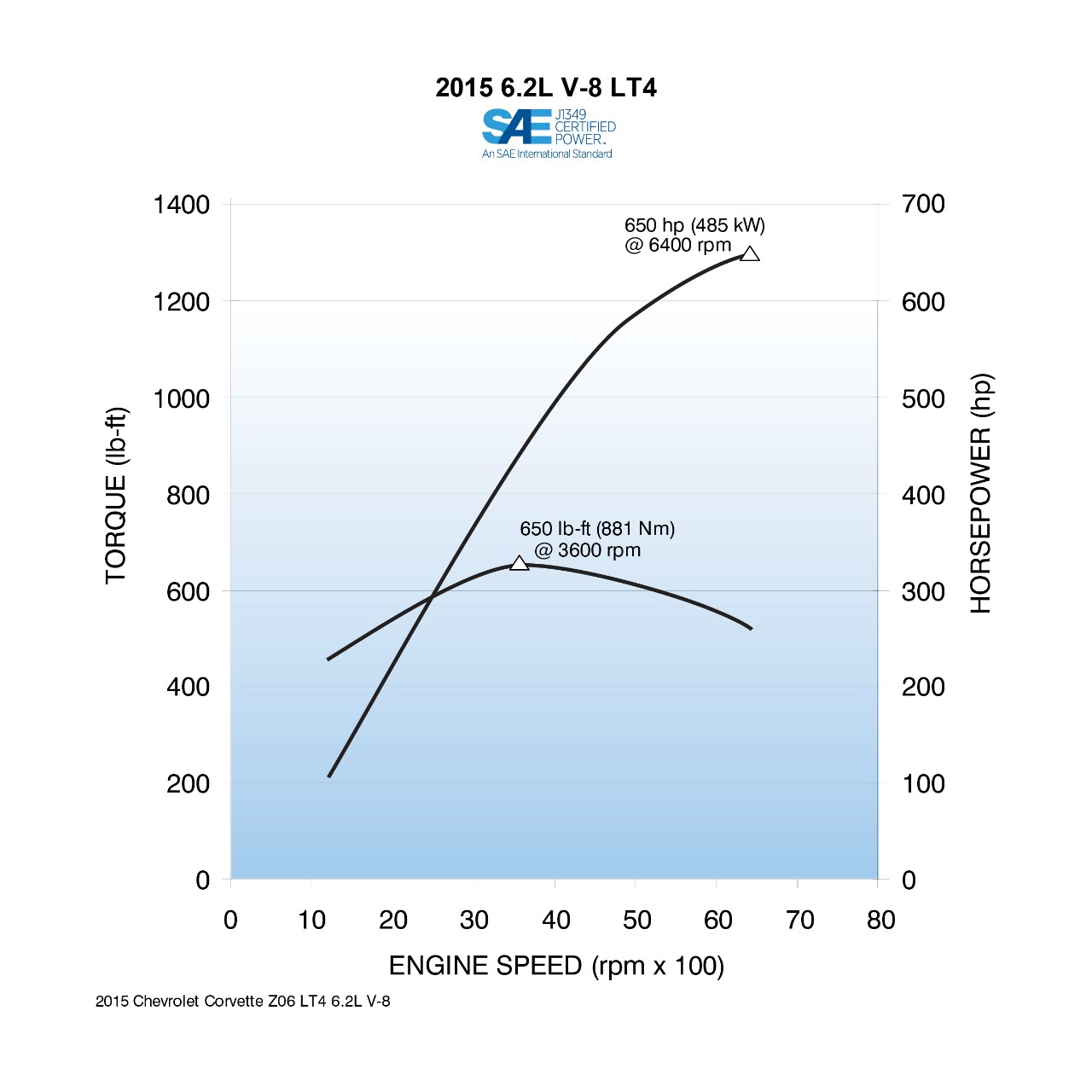 LT4 Performance Topics
GM Press Release about the LT4 Z06 Engine
Courtesy of GM Media
More than raw power, the LT4 delivers exceptional capability in a more efficient package, making it one of the most compact 650-horsepower automotive engines in the world. 
"The LT4 Small Block delivers the ultimate horsepower and torque for the most capable Corvette ever," said Jordan Lee, chief engineer and program manager, GM Small Block Engines. "Its tremendous low-end torque, enabled by a more efficient supercharger, maximizes responsiveness for a driving experience that is on par with the world's most exotic supercars – with impeccable manners that make it suitable for daily driving."

To achieve its world-class balance of performance and efficiency, the LT4 leverages the technologies introduced on the 2014 Corvette Stingray's LT1 Gen 5 Small Block, including direct injection, Active Fuel Management (cylinder deactivation) and continuously variable valve timing, while advancing the supercharging technologies established with the previous-generation Corvette ZR1's LS9 engine. That includes a new, more compact and higher output supercharger/intercooler assembly that helps maintain a low hood profile, while also meeting the pedestrian protection requirements in the global markets where the Z06 will take on the world's supercar comers. It's also 20 pounds lighter than the LS9's supercharger.

"The LT4 is only one inch taller than the naturally aspirated LT1 engine," said Lee. "Along with a lower profile under the hood, the new, very compact supercharger helps the engine make power more quickly – and perhaps more importantly, it helps produce more torque earlier in the rpm band."

Supercharging for low-rpm torque and high-rpm horsepower

A new R1740 TVS 1.7L supercharger spins at up to 20,150 rpm – 5,000 rpm more than the supercharger on the previous LS9 engine. Like the LS9's supercharger, the R1740 features a pair of four-lobe rotors, each with a 160-degree helix (twist) designed to broaden the effectiveness of the positive-displacement "blower" – enabling more torque production at lower rpm and sustained boost at higher rpm for greater horsepower.
Compared to the LS9's 2.3L supercharger, the R1740's rotors are shorter in length and smaller in diameter, which contributes to their higher-rpm capability – and enables them to produce power-enhancing boost earlier in the rpm band. That boost is achieved more efficiently via a more direct discharge port that creates less turbulence, reducing heat and speeding airflow into the engine.

The supercharger's charge-cooling system is also more efficient, offering 10 percent greater heat rejection through 23 percent reduced volume, compared to the LS9. Read More about the LT4 at GM Here

Not sure how to increase the horsepower or performance in your C7 Corvette? Ask or search our database in this Q&A Section.
Do you have a question or great information to share, ask it here!
Click here to return to the home page from LT4 Engine