C7 Corvette Cold Air Intake Comparisons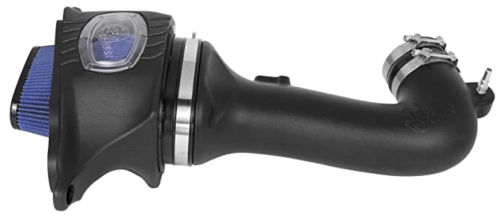 aFe C7 Corvette Cold Air Intake Comparisons
C7 Corvette Cold Air Intake Comparisons | By: Chris Trautman

You are here with one simple question!  Is the C7 Corvette Cold Air Intake system worth it?
Well not to long ago we set off on the same quest as you, we wanted to install a new cold air intake system in our 2015 C7 Z06 Corvette.  Upon our initial search we were surprised by the  number of options and claims made by the manufactures of cold air intake systems for these cars.  Now these systems seem relatively simple by design and all very similar on the surface.  What is not the same is the price.  
Just like you are probable doing now, we attempted to sort through the mass amount of information or disinformation out there about cold air intake systems.  It seems like everyone you ask has an opinion about a cold air intake system on a C7 Corvette and they never seem to be authoritative  reasons or at best are  unverifiable seat of pants claims.  
Let's be honest some company's claim 37 horsepower for an air cleaner and intake ducting, really?  It's almost laughable right, that much horsepower was left for the taking from GM, ok lets see what we can learn!  
So come along with us as we try to sort through the claims.  We have gather all the information so you can make your own educated decision.  Don't worry we will summarize.
First Resource is the Corvette Forum Post on Cold Air Intake Data.  Take a look at that post and come back here.  It's a very long read.
More details on the Halltech Sytem with Dyno Results on the Corvette Forum.
More info from the Corvette Forum again on the aFe system.
C7 Corvette Cold Air Intake Comparisons Horsepower
So now that you have read a lot of posts, probably more than you would have liked to, you have a pretty good perception of what everyone is selling.  But how do they add up against the competition and who has the most proof to back it up.  To be honest we will let you be the ultimate judge of that.  For the sake of presenting this to you, our reader, as if we are friends we will post what we believe is the best evidence using the same anecdotal evidence we just presented to you.  
Let's get on with it!
Horsepower Claims
Baseline: 2015 Corvette Z06 550 wheel horsepower (rwhp)
Supporting Evidence Confidence Score (CS 1-10) 10 being the highest
Halltech Stinger RZ (Green Filter): 608 rwhp              CS: 7*
aFe Power PN 52-74202-1:              598 rwhp               CS: 7
Halltech Stinger RZ (K&N):                 595 rwhp               CS: 7
Injen:                                                                  580 rwhp               CS: 6
Stock Intake with Green Filter:         588 rwhp               CS: 5


Who Is Our Pick of The C7 Corvette Cold Air Intake Comparisons?
We pick the aFe Power PN 52-74202-1 for our C7 Corvette Cold Air Intake Comparisons, and here is why!
Summary:
Tied with Halltech for Confidence Score
Proven high performance
Less expensive compared to Halltech
Slightly better customer support for future filter changes
Claims of better fit over Halltech
Best Dollar / Per Horsepower /Confidence ratio 
Winners & Losers
Not really a winner or loser here for the C7 Corvette Cold Air Intake Comparisons battle.  All rank very well for performance.  The #1 Halltech CAI system is ranked at 7*, we suspect the intake results were from a German tuned car with higher octane, hence why we gave it the (*).  Regardless it's at the top of the list for both Horsepower and Confidence, since evidence overwhelmingly shows it outperforming its peers. 
The other Halltech RZ system also scored very high and both are two of the best systems you can buy for your LT1 or LT4 Corvette. 
The bottom result with the stock intake with the "Green Filter" was a little harder to find proof of the actual numbers on a dyno.  The "Green or K&N Filters" have always been great drop in easy replacement options, and the same holds true in our review.  Just not sure the claims meet reality.  
What Happen to the Halltech RZ In The C7 Corvette Cold Air Intake Comparisons?
Summary:
Tied with aFe for Highest Confidence Score
Highest Price
Relatively same RWHP compared to aFe
Highest Cost per the Dollar / Per Horsepower /Confidence ratio 
What About Injen?
Summary:
Lowest Cost$$$
Lower Confidence Score compared to aFe and Halltech
As for a complete intake system, proof of performance for the Injen system is very slim.  The only reason it made our list was the price point and the evidence seems to mildly support the claims of horsepower.  We were unable to find any dyno videos to support the claims.  We did find a Sponsored post on the Corvette Forum for Injen with Dyno Graphs.  It seems to support the claims but they are not independently verified.  They do have a 5 Star Rating on Amazon so that counts for evidence, it's just not enough to move it up on our Confidence Score.   
The next closest in price is the K&N Cold Air Intake (Not Researched)
Base Line Stock vs. Halltech Dyno Video
Yeah we know dyno's and conditions vary, but we did our best to find back to back comparisons so you could see real world dyno results.  Believe it or not, it's really hard to find good quality videos that do before and after results.  But we found a couple that should help your decision making process easier. 
Base Line Stock vs. aFe Dyno Video
What About LT1 Intake Manifolds?
Our research yielded some interesting results for upgrading the LT1 manifold at the Corvette Forum post here. 
C7 Corvette Cold Air Intake Comparisons