Corvette Jake Build Your Own!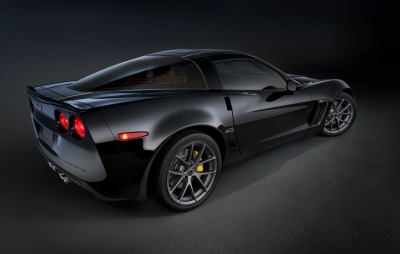 GM Press Release:
2011 CHEVROLET CORVETTE JAKE EDITION CONCEPT
He started off as a discreet logo in 2005 that symbolized a tenacious attitude of the Corvette Racing team and ever since, the skull mascot known as Jake has grown to embody the determination and triumphs of the team. Now, Chevrolet designers have created the Corvette Jake Edition Concept, a special Grand Sport convertible concept vehicle that celebrates Corvette's racing spirit.
The Jake Edition is a Grand Sport Coupe, with Z06 wheels featuring the Competition Gray finish. The matte Jake hood graphic from the GT1 commemorative model adds a subtle visual statement, while a host of other accessories round out the car's unique appearance. Most of the parts added to this special Grand Sport are available today as Genuine Corvette Accessories or through any Chevrolet dealer's parts department.
"Jake is more than the mascot for Corvette Racing, he personifies the Corvette spirit," said Dave Ross, design manager. "We designed this concept to demonstrate how any enthusiast could create his own Jake special model with parts available from any Chevrolet dealership."
Some of the accessories used to create the Corvette Jake concept are not currently available, but are planned for future release, including Jake-logo floor mats, console lid, wheel center caps and more. Other parts, including the hood graphic and Z06 wheels, are offered as Genuine Corvette Accessories.
"The Corvette has long inspired car enthusiasts to personalize it. The Jake concept shows one very unique way to do it," said Ross. "With the great variety of accessories and other parts available, there's virtually no limit to how you can make your Corvette stand apart from all others."

Parts You will Need:
Grand Sport Coupe (Black)
Z06 wheels featuring the Competition Gray finish
Matte Jake hood graphic from the GT1 commemorative model
Jake-logo floor mats (future release)
Jake Console lid (future release)
Jake Wheel center caps (future release)
Ebony leather with titanium stitching and red accents on the seats
Chevrolet Accessory Tech-pattern engine cover
Chevrolet Accessory interior trim kit
Chevrolet Accessory racing pedal kit
Jake-logo fender badge (concept)
"Corvette"-logo windshield header graphic (concept)
Jake-logo underhood blanket and lighting package (future release)
Chevrolet Accessory full-width rear spoiler in Cyber Gray








VEHICLE HIGHLIGHTS
Exterior:
·	Black color
·	Corvette Z06 wheels in Competition Gray
·	"Corvette"-logo windshield header graphic (concept)
·	GT1 Championship Edition Jake-logo hood graphic
·	Jake-logo wheel center caps (future)
·	Jake-logo fender badge (concept)
·	Jake-logo underhood blanket and lighting package (future)
·	Chevrolet Accessory full-width rear spoiler in Cyber Gray
Interior:
·	Ebony leather with titanium stitching and red accents on the seats
·	Chevrolet Accessory interior trim kit
·	Chevrolet Accessory racing pedal kit
·	Chevrolet Accessory "Jake" floor mats (future)
·	Chevrolet Accessory "Jake" console lid (future)
Performance:
·	LS3 6.2L V-8 with Tremec TR6060 six-speed manual transmission
·	Chevrolet Accessory Tech-pattern engine cover


Click here to return to the Home Page from Corvette Jake