Congrats to the February E Book Winner!
Congratulations to our winner Jørn and to everyone who signed up for our newsletter and E Book giveaway! As a special bonus and thank you, we would like to extend to you, our valued reader, 20% off the C5 Corvette Book of Knowledge Owners/Buyers Guide & Membership!! Simply enter the discount code, "20percent" (without the quotation marks) at checkout when you visit, https://www.corvette-web-central.com/Corvette-buyers-guide.html Use the code as soon as possible as this exceptional offer will expire one week after release or 3/8/11.

Check us out in the back of the periodical Corvette Magazine promoting both the C5 and C6 E guides! Look for us in the June issue!

In addition, for a limited time, we're giving away free cool Corvette hats in our online store, http://corvettewebcentral.myshopify.com/ We offer already low prices on top of these exceptional free hats and can't afford to run this promotion forever!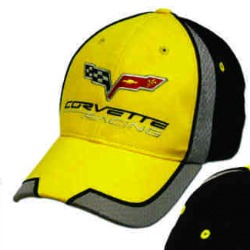 Corvette Racing News
Mark your calendars for the Mobil 1 Twelve Hours of Sebring on March 19. This is the opening race of the year so don't miss it! The season-opening 12-hour race will be shown live on ESPN3.com and americanlemans.com starting at 10 a.m. ET. ABC will televise race highlights from 12:30 to 2 p.m. ET on Sunday, March 20.


C7 Corvette
Things are pretty quiet on the new Corvette front. Don't let the magazines fool you! Most of them have been rehashing old press releases. So far GM has said no to Mid engine and yes to better mileage using smaller displacement. The speculation is still buzzing around a release date. It will always be hard to nail down a date until things get a bit closer. It would be nice to see it as a 2013 model next fall. We have our ears to the ground and will be working closely with our insiders to uncover more info as its leaked out!


C6 Corvette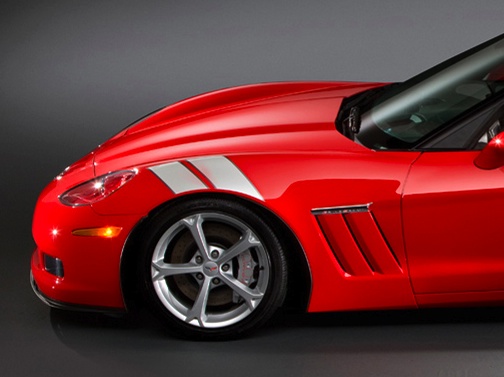 Sales for the C6 in 2010 came in at 12,194 units sold after a peak of 40,561 in 2007! That's for every model! Very tough times indeed! There where some bright spots though. The Grand Sport model accounted for more than half of those sales! The vibe we have gotten from the plant is that things are starting to turn around and return to more of a normal pace. The production will still be low but not nearly as low as 2010!

The 2005-06 Corvettes have a recall we would like to point out. We feel the need to mention the recall pertaining to the 2005-06 Corvettes more specifically so that no one has any accidents or injuries. This recall I feel very strongly about and suggest that anyone considering buying or currently owning any year C6 Corvette to have them checked! The Recall will not cost you any money for affected years. If you are worried about other years you will be responsible for any inspections or repairs! Below is a summary of the defect. The choice is yours to perform the check regardless of the information provided. Summary: ON SEPTEMBER 17, 2008, ODI OPENED PRELIMINARY EVALUATION PE08-056 TO INVESTIGATE ALLEGATIONS OF INAPPROPRIATE ACTIVATION OF THE ELECTRONIC STABILITY CONTROL (ESC) SYSTEM IN MODEL YEAR (MY) 2005 AND 2006 CHEVROLET CORVETTE VEHICLES. SOME REPORTS RECEIVED BY ODI AND SOME REPORTS TO GENERAL MOTORS (GM) CONTAINED IN GM'S RESPONSE TO PE08-056 ALLEGE THAT THE ESC SYSTEM MALFUNCTIONED CAUSING A SUDDEN AND INAPPROPRIATE BRAKING ACTION WITHOUT ILLUMINATION OF THE BRAKE LIGHTS AND CAUSING THE VEHICLE TO SWERVE LEFT OR RIGHT UNEXPECTEDLY. GM ISSUED A TECHNICAL SERVICE BULLETIN IN JANUARY 2006, LATER REVISED IN OCTOBER 2007 (BULLETIN NO. 06-02-35-002B) CONCERNING ESC PROBLEMS IN MY 2005 AND 2006 CHEVROLET CORVETTE VEHICLES WITH THE TELESCOPING STEERING WHEEL OPTION. THE BULLETIN WAS INTENDED TO CORRECT A FRETTING CORROSION PROBLEM WITH THE STEERING WHEEL POSITION SENSOR CONNECTOR C202. AN ENGINEERING ANALYSIS HAS BEEN OPENED (EA09-002) TO CONTINUE TO ASSES THE SCOPE, FREQUENCY, AND SAFETY-RELATED CONSEQUENCES OF THE ALLEGED DEFECT.  


C5 Corvette
If you currently own or are thinking of buying a C5 we have an invaluable tip for you! The C5 and C6 Corvettes with a manual transmission have an indicator of use and abuse! The clutch fluid when the car is abused or driven hard shows indications of this. The harder a car is driven and factoring in age and mileage will help you determine the prior driving history of a C5 or C6. The clutch dust transfers into the fluid under extreme conditions like heat and friction. So look at the clutch fluid before you buy! The lighter the color the better! The Darker the fluid the faster you should run from purchasing! Some color is ok as the fluid darkens with age.

We have information and many more tips like this in our C5 Corvette Book of Knowledge! In the members area we help you stay informed and share with others!


C4 Corvette
Recall for 1984-1991 model years have a possible Fire Hazard! Check your fuel filters FRAM BRAND NAME P/N G3727! Also see C3 Recall for Oil Filter Recall that also is installed on C4's. See recalls for all the details!
Summary: CERTAIN REPLACEMENT FUEL FILTERS, FRAM BRAND NAME P/N G3727, WITH DATE CODES X52911 THROUGH X60801 SEQUENTIALLY OR X600141 AND A MEXICO COUNTRY OR ORIGIN MARKING ON THE FUEL FILTER HOUSING MANUFACTURED FROM OCTOBER 18, 2005, THROUGH MARCH 21, 2006, SOLD FOR USE ON THE VEHICLES LISTED ABOVE AND ON CERTAIN SCHOOL BUSES. (TO SEE THE SCHOOL BUS ENGINE SIZES, CLICK ON "DOCUMENT SEARCH" AND THEN "BUS APPLICATIONS"). THE CONNECTOR ON THE FUEL FILTER WAS NOT MANUFACTURED TO HONEYWELL'S SPECIFICATION. AS A RESULT, THE O-RING MAY NOT SEAT CORRECTLY ON THE FUEL LINE. Consequence: THIS CONDITION MAY CAUSE AN INADEQUATE SEAL AT THE CONNECTION, POTENTIALLY LEADING TO A FUEL LEAK. IN THE PRESENCE OF AN IGNITION SOURCE, A FIRE COULD OCCUR. Remedy: HONEYWELL WILL NOTIFY OWNERS AND REPLACE THE FUEL FILTERS FREE OF CHARGE. THE RECALL BEGAN ON OCTOBER 18, 2006. OWNERS MAY CONTACT FRAM CUSTOMER SERVICE AT 1-800-890-2075 (OPTION 1). Notes: THIS RECALL ONLY PERTAINS TO AFTERMARKET FRAM FUEL FILTERS AND HAS NO RELATION TO ANY ORIGINAL EQUIPMENT INSTALLED ON THE VEHICLES LISTED. CUSTOMERS MAY CONTACT THE NATIONAL HIGHWAY TRAFFIC SAFETY ADMINISTRATION'S VEHICLE SAFETY HOTLINE AT 1-888-327-4236 (TTY: 1-800-424-9153); OR GO TO HTTP://WWW.SAFERCAR.GOV.
Soon to come is the C4 Corvette Buyers Owners E-Guide. This is the next book in our series of guides! Completion is scheduled for early summer!


C3 Corvette
C3 Recall: Oil filters may rupture, please check your oil filters! See summary below! Summary: CERTAIN HONEYWELL FRAM RACING BRAND HP4 AND HP8 OIL FILTERS THAT WERE MANUFACTURED FROM MAY 25, 2006, THROUGH SEPTEMBER 14, 2007, AND SOLD FOR USE AS REPLACEMENT EQUIPMENT FOR VEHICLES LIST ABOVE. THE AFFECTED FILTERS ARE MARKED WITH A DATE CODE A61451 THROUGH A72571 SEQUENTIALLY. THE DATE CODE AND PART NUMBER APPEAR ON THE FILTER HOUSING. FRAM RACING HP4 AND HP8 OIL FILTERS NOT BEARING A DATE CODE IN THIS RANGE ARE NOT AFFECTED BY THIS RECALL. THE GASKET OF THE OIL FILTER BECOMES MORE PLIABLE UNDER HIGH TEMPERATURES AND PRESSURES. Consequence: THIS CONDITION MAY CAUSE INADEQUATE SEALING AND LOSS OF ENGINE OIL, POSSIBLY RESULTING IN A FIRE. Remedy: HONEYWELL WILL REPLACE THE AFFECTED OIL FILTERS FREE OF CHARGE. THE RECALL BEGAN DURING NOVEMBER 2007. OWNERS CAN CONTACT FRAM CUSTOMER SERVICE TOLL-FREE AT 1-800-890-2075. Notes: CUSTOMERS MAY CONTACT THE NATIONAL HIGHWAY TRAFFIC SAFETY ADMINISTRATION'S VEHICLE SAFETY HOTLINE AT 1-888-327-4236 (TTY: 1-800-424-9153); OR GO TO HTTP://WWW.SAFERCAR.GOV.




C2 Corvette VIN Decoder
Corvette VIN Decoder 1965 to 1971 13 Digit VIN Explanation

Location: 1965 to 1967 similar to the 1963 to 1964 models that were spot welded to the body hinge brace under the glove box. The major difference was that the 65-67 were riveted instead in the same location.

1968-82 Inner side of drivers side windshield post (A-pillar). Visible through window from outside.

Example: 194375S100001

Sequence
Number   	Code Description
1		GM division	1 = Chevrolet
2		Car line or series	9 = Corvette
3		Engine type	4 = V8
4 & 5		Body style	3 & 7 = two door coupe 
				6 & 7 = two door convertible
6		Model year designation from GM	
                                5 = 1965 
				6 = 1966 
                                7 = 1967
				8 = 1968
                                9 = 1969 
				0 = 1970 
                                1 = 1971
7		Final Assembly Plant	"S" = St. Louis
8 to 13		Production Sequence Number 	100001 - 121801 

Corvette Buyers Guide News
The C5 Corvette Buyers Owners guide, "C5 Corvette Book of Knowledge," continues to grow! We just sent out revision 1 free of charge. We updated the inspection, storage and road test checklists. In addition we added some more great recommended products.

We are rapidly expanding the members area that comes with the E guide. The members area is designed to be easy to use and contain links and information vital to C5 Corvette ownership and maintenance. We just added a video player with helpful information. This is in addition to a parts manual and pdf versions of official owners manuals and DIY links.

For the past several months we have been working on the next E guide in the series of Buyers Owners Guides. This E guide will continue on the great success of the C5 Book of Knowledge. The new E guide will be for the C6 and will stay with the same title. The "C6 Corvette Book of Knowledge" will be unique to C6 Corvettes. We will also be in the back of the periodical Corvette Magazine promoting both the C5 and C6 E guides! Look for us in the June issue!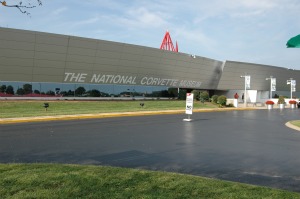 Corvette Museum 2011 Events
Click here for all the 2011 Corvette events!
C5 Corvette Book of Knowledge Buyers & Owners Guide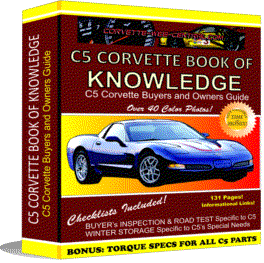 Well, we did it! After years of research and hard work we finally finished the C5 Book of Knowledge! The book evolved into more of a well round ownership experience book. Consider it a bible for C5 Corvette owners!
It instills the tools to empower every Corvette enthusiast to purchase, own and maintain their dream C5 Corvette. The book also teaches you what makes the C5 generation unique along the way. We provide you with the tools and the knowledge to keep your life easy! You only need to provide enthusiastic passion... The C5 Corvette Book of Knowledge! This link lists more details on the E Publication!


Our site is growing everyday and for that we thank all of you! If you haven't stopped by in a while we have added newer style Youtube players so the videos are easier to watch. We also add videos almost every day now with even more categories. We have a cool search function for Corvette News from Google in which all things Corvette come to us from the web for you to read! Click here to see the what we are talking about! There is just too many new things to list so just come and take a look around again! We look forward to seeing you!
Whats New!
Corvette Videos!
Corvette-web-central.com Home page!