2010 Corvette Review
2010 Corvette Review
The 2010 Corvette line up adds a new model to the choices. The Grand Sport returns to the Corvette after a 14 year hiatus. The last time the GS graced the Corvette was in 1996 as a limited production no color choice production run of 1000 units. Available in all colors on coupe or convertible.
Enhanced Performance Engineering
Z06-styling
430-horsepower 6.2-liter V8 engine
Optional "dual-mode" exhaust system increases horsepower to 436
Specific styling cues "dual slit front fenders"
Z51 option package is replace by Grand Sport
Suspension tuning
Bigger Brakes
Transmission gearing differences
Wider Wheels

2010 Corvette Base Prices
MSRP: $49,880 - $107,830 Invoice: $44,526 - $99,9332010 Grand Sport Key Features
2010 Corvette Available Engines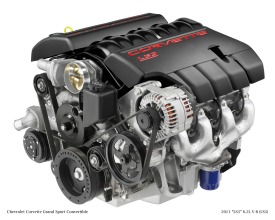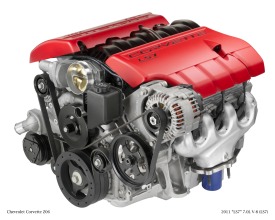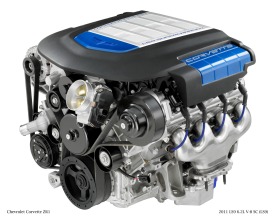 Left: LS3, Center: LS7, Right: LS9


2010 Corvette Review Videos by Industry Experts
2010 Corvette Awards & Ratings
Awards
8 out of 10 from J.D. Power & Associates for reliability out of the last 3 years of initial quality and dependability.


2010 Corvette Performance
2010 Chevrolet Corvette Coupe 0-60 mph: 4.1 seconds

2010 Chevrolet Corvette Grand Sport Coupe & Convertible 0-60 mph: 4.1 seconds

2010 Chevrolet Corvette Z06 0-60 mph: 3.6 seconds

2010 Chevrolet Corvette ZR1 0-60 mph: 3.5 seconds 1/4 Mile ET: 11.21 sec Speed 130 MPH
2010 Corvette Exterior
Unique styling with differences between models. Starting at the Grand Sport you get wider wheel wells with unique fenders & wheels, bigger brakes, front air dam, custom badging and Z06 rear fenders.

The Z06 takes you to the next level with its own unique light weight carbon fiber front fenders fixed roof. Although not seen the Z06 has an aluminum frame.

Even more power than the Z06 the ZR1 style cues carry the broader shoulders theme with dual vent front fenders. Lightweight carbon fiber hood with supercharger viewing window, carbon fiber roof, carbon brakes with blue calipers, carbon fiber air dam and carbon fiber lower side skirts.
2010 Corvette Safety
Not yet Government Tested the Corvette comes with many standard safety features.

2 Front Dual Stage Airbags
Anti-lock Brakes
Traction Control with Performance Traction Management (PTM)
Heads-Up Display
Side Air Bags
Onstar with crash assistance
RunFlat Tires (also space/weight saving)

What other 2010 Corvette Review sources say hamper safety:
"Thick roof pillars and rear glass distortion " States Consumers Guide
2010 Corvette Interior
Lots is said of the Corvette interior. In all honesty the inside of the C6 Corvette can be traced back to the C5. GM acknowledges the lack of a refined interior and are working towards improving fit and finish in later model years.

The 2010 Corvette coupe and convertible provide 22.4 and 11 cubic feet of storage room.

US News Ranks it 7.8 out of 10

Car & Driver says "super-comfortable seats (though lacking in lateral support) and a supremely convenient head-up display."

Edmonds has this to say "Chevrolet has improved the current-generation Corvette's fit and finish since its debut, but overall interior quality still leaves something to be desired."

Consumer Guide states "Headroom and legroom are adequate, and the seats are comfortable. The cockpit is wider than in most sports cars. ... Entry and exit are drop in/climb out, and Corvette's long doors don't make things any easier."
2010 Corvette Reliability
8 out of 10 from J.D. Power & Associates for reliability out of the last 3 years of initial quality and dependability.


2010 Corvette Fuel Mileage
Base and Grand Sport Automatic Trans, 15 City, 18 Combined, 24 Highway
Base and Grand Sport Manual Trans, 16 City, 19 Combined, 26 Highway
Z06, 15 City, 18 Combined, 24 Highway
ZR1, 14 City, 16 Combined, 20 Highway

2010 Corvette Review Power
430-horsepower 6.2 liter V8 engine (LS3)
436-horsepower 6.2 liter V8 engine optional dual mode exhaust (LS3)
505-horsepower 7.0 liter V8 engine Z06 (LS7)
638-horsepower 6.2 liter Supercharged V8 engine ZR1 (LS9)

2010 Corvette Review Pros & Cons
Pros
Power & more power in low usable RPM ranges
Style
Fuel Economy to Power Ratio
Fun to Drive
Value to Performance
Helpful and Friendly fellow Corvette Owners
Largest Car Museum in the World
Factory Tours with the possibility to start your car on the assembly line for the first time.
Good Comfortable Daily Driver

Cons
Less than Exciting Interior and Seats
Traction could be Improved from dead starts
Needs Minor Handling & Refinement Improvements
Less Harsh ride in Grand Sport version Note: Later version have selective Magnetic Ride Control.




---
2010 Corvette Review Price & Option List

2010 Corvette Review Coupe Price $49,880
1LT Base Equipment Group $0
2LT Equipment Group $1,195
3LT Preferred Equipment Group $4,205
4LT Premium Equipment Group $7,705

2010 Corvette Convertible Price $54,530
1LT Base Equipment Group $0
2LT Equipment Group $3,190
3LT Preferred Equipment Group $6,200
4LT Premium Equipment Group $9,700

2010 Corvette Grand Sport Coupe Price $55,720
1LT Base Equipment Group $0
2LT Equipment Group $1,195
3LT Preferred Equipment Group $4,205
4LT Premium Equipment Group $7,705

2010 Corvette Grand Sport Convertible $59,530
1LT Base Equipment Group $0
2LT Equipment Group $3,190
3LT Preferred Equipment Group $6,200
4LT Premium Equipment Group $9,700

2010 Corvette Z06 Price $75,235
1LZ Base Equipment Group $0
2LZ Preferred Equipment Group $2,665
3LZ Premium Equipment Group $7,170

2010 Corvette ZR1 $107,830
1ZR Base Equipment Group $0
3ZR Premium Equipment Group $10,000

RPO Description of RPO Codes Price

C2L Roof Package – Includes Painted and Glass Tops $1,400
CC3 Glass Roof instead of Painted Roof $750
CCR Special order option $0
D30 Color Combination Override $590
F55 Magnetic Ride Control with Drilled Rotors $1,995
MN6 6‑Speed Manual Transmission $0
MXO 6‑Speed Paddle Shift Automatic Transmission $1,250
NPP Dual Mode Exhaust $1,195
PYD Grand Sport Competition Gray Wheels $395
PYE Grand Sport Chrome Wheels $1,995
Q44 Z06 Competition Gray Wheels $395
Q6B ZR1 Chrome Wheels $2,000
Q6J ZR1 Competition Gray Wheels $395
Q76 Z06 Original Chrome 10 spoke Wheels $1,495
Q8A Z06 Spider Chrome Wheels $1,995
Q9V Chrome 5 Spoke Wheels – Coupe and Conv Only $1,850
QX1 Split Spoke Competition Gray Wheels $395
R8C Museum Delivery $490
U3U Navigation 6.5" Screen $1,750
US9 6 Disc CD Changer $395
Z15 Grand Sport Heritage Package $1,195
**6 Two‑Tone Seating $695
0B1 Cross Flag Embroidery on Headrests $300
45U Velocity Yellow Premium Tintcoat $850
85U Jetstream Blue Premium Tintcoat $850
89U Crystal Red Premium Tintcoat $850