2012 Corvette
One of the exciting new things coming to the 2012 Corvette line up is the Corvette Centennial Edition. Which traces its racing roots back to Louis Chevrolet 100 years ago.

Available on all Corvette models –Trim levels: 3LT/4LT/3LZ/3ZR•Unique Exterior Color -Carbon flash metallic –2012 only
•Exterior Special 100th Black Badging• Graphics Package to emphasize Chevrolet's Racing Heritage –satin black• Body Colored ZR1 spoiler
•Black Grand Sport Fender Badge on Grand Sport versions
•Ebony Interior Leather with Suede Accents• Ebony leather wrapped with red stitching, IP, and door panels. (except 3LT)• Red stitching for steering wheel, seats, console, shifter, park brake
•Embossed 100thanniversary logos in seats
•Special black interior trim plate • Satin Black wheels with unique center cap logo
•19/20 RUR black with red stripe cup wheels on Z06/ZR1,
•18/19 RUM black wheels on Grand Sport.
•18/19 RUL black wheels with red stripe on coupe and convertible •Chrome wheels available for 3LT/4LT,
•Machined wheels available for 3LZ/3ZR• F55 Magnetic Ride Control included on all models• Red painted brake calipers included on all models


Click here to Download a 2012 Corvette Information PDF

Click here for the 2012 Corvette Order Guide from GM




2012 Corvette New Features
Michelin Pilot Sport Cup Zero Pressure tires Option for the Z06/ZR1. They are included in the optional Z07 performance package on the Corvette Z06 and a new PDE performance package on the ZR1.
Performance Traction Management (offered on the Z06 for the first time in 2012) is an advanced system that optimizes traction for greater and more consistent on-track performance.
A full-width racing-style spoiler for improved aerodynamics is also included in both the '12 Z07 and PDE packages.
The Z06 model will now offer Magnetic Selective Ride Control, the world's fastest-reacting suspension technology
A carbon fiber hood will be an available option on 2012 Z06 models RPO B92
New standard manual transmission for ZR1 will include taller gearing in fifth and sixth gears, for a 2-mpg improvement in highway fuel economy. Lower gas guzzler tax tier. RPO MH3 ZR1 Transmission Ratio comparison.

ME2 MH3
2.26 2.29
1.58 1.61
1.19 1.21
1 1 1 1
0.71 0.81
0.5 0.67

New choice of wheel designs
Optional Brake Caliper color choices red, yellow, silver or gray
New Interior Upgrades
All 2012 Corvette models will include a new seat design and a new steering wheel. GM is listening! The seats feature larger bolsters on the seat back and cushion areas, which provide better driver support, especially in high-performance driving while remaining comfortable for daily street driving. Microfiber suede seat inserts are optional and improve tactile feel, as well as add additional support.
The new revised steering wheel, featuring model-specific badges, streamlined switch trim and wrapped spokes. Padded center console and armrests for all models are now included for 2012. An additional visual touch inside the car is contrasting color stitching – in red, blue and yellow – which is available with the custom leather-wrapped interior.
New Bose upgraded audio system, which includes nine speakers (compared to previous years) for improved audio quality. Care was taken to precisely tune the new system to the cabin's acoustics. New tweeters are located in the instrument panel. Bose added next-generation bass performance to the new Corvette. All improvements that Corvette drivers will hear.
A new Technology Package (2LT trim level) Available to more models. The package's equipment includes the navigation radio, head-up display, Bose premium audio system, Bluetooth wireless phone connectivity and a USB port.


Corvette 2012 Interior Upgrade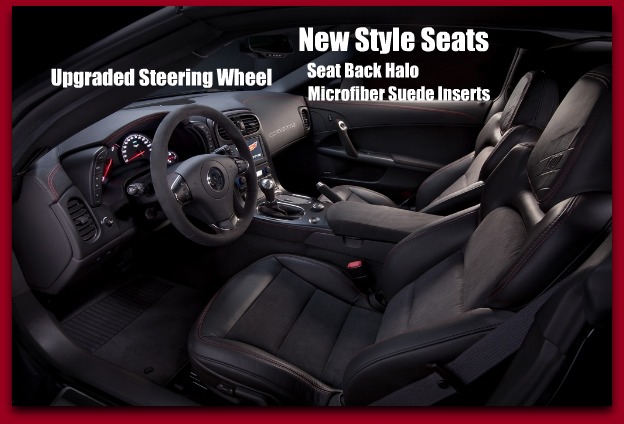 Click here to return to the C6 home page