C5 Corvette Headlight
The C5 Corvette Headlight present on the last generation of Corvette's is the last of the pop-up headlights. Some purists disagree with removing the pop-up design and others say it was long overdue! What ever your stance is, the C5 Corvette headlights (97-04) were not very good at producing light! Given the performance of the car the lights always lacked output. When driving a car like the C5 you need to be aware of potholes and road obstructions. We highly recommend upgrading to a brighter bulb! The last you want to do with your car is overdrive your headlights and at a minimum damage your Corvette or worse yet hit something!
Hi & Low Beams
High Beam Bulb Part # 9005

Low Beam Part # 9006
Bulb Color Temps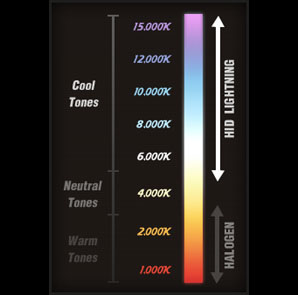 The stock bulbs are down in the Halogen range. Notice that this is what gives them the yellow appearance. On the other end of the scale is HID @ 15,000K in purple! For the whitest of light closest to daylight choose a color of 6,000K.

FAQ'S About HID:
Every country and jurisdiction has its own rules and regulations governing the use of automotive lighting. XENON H.I.D. lighting systems that are supplied with the vehicles from the factory are DOT / E approved. NO XENON H.I.D. lighting system available from any source is DOT / E approved if installed outside of the factory. These kits are not street legal for use on public roads as they are. As a result, we officially endorse the kit for exhibition and off-road use only!
---
Common Headlight Issues
The C5 Corvette lights are notorious for failing! The biggest problem is non opening. The plastic gears fail inside. You can find OEM style replacements in the above recommended products along with a better brass alternative! A less common non opening issue is the door opening control module. This part is quiet expensive so make sure this is the culprit first!


Light output is another issue! The light is very scattered from the lens and not focused where you need the light. A better bulb can help but wont completely solve the problem. The Euro Standard lens we have heard can improve this but we are not sure of the legality of the installation.

Missing parts or broken/loose linkages. The plug on the side of the C5 Corvette headlight bezel will often come up missing. This also con be found in the products listed above. The plastic bushings in the linkages can fail or become very loose if the lights are used often.

If you are a purist and want to keep the original C5 Corvette headlights we recommend using a protective film over the lens to protect from rock chips. These are easy to install, fit well and can be removed in the future with no problem. This product and many others can be found above! If you have more problems or questions with C5 Headlights head back on this link for more answers! Click here to return to the C5 Corvette page from C5 Corvette Headlight