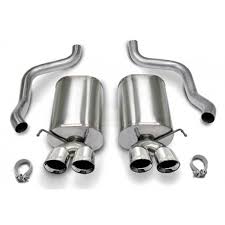 Video comparisons of Corvette C6 exhaust systems from You Tube
So you want to improve your 2005-2011 Corvette C6 exhaust system? You've come to the right place! You can listen here before you buy! You can listen to Borla, Corsa, B&B, Flowmaster and even Magnaflow! Some are mild some are wild! Its all what your looking for! The biggest thing to think about when picking out exhaust is who's riding in the right seat! The drone of a loud system can get fatiguing on long trips. Most company's talk about this very problem so be aware of your system choice!

Corvette Exhaust System Last a Long Time
A great feature about late model Corvette exhaust systems are that they last forever!  Usually they are made from stainless steel and most never see road salt allowing them to stay like new and never wear out.  Lots of owners buy exhaust systems for their Corvettes and later find out they are tired of the sound and want a different system.  This is a great opportunity for you to get a great system at almost half price.  One of the best places to find these systems are on Corvette Forums or Ebay.  Find Cheap C6 Corvette Exhaust systems here! 
If you are lucky you can even find new old stock that a dealer is trying to clear out since the C6 is no longer the latest Corvette.
Borla
SLP
Corsa Sport
B&B Bullets
Flowmaster
Magnaflow
One of the biggest down sides to an exhaust system change is the exhaust drone that can occur. Typically this happens around 1500-1700 rpm. The stock system is tuned to minimize this. Depending on the level of your modifications this can be come more pronounced and more intense. The sound can be fun around town but long trips can be annoying. We recommend finding the right system for you. Ask around watch more videos with cars like yours with the same level of modifications. We have a C5 with Borla exhaust and found the drone with our other mods to much on long trips. We were able to overcome this with sound proofing. So thats always an option. Some C6 models have the NPP option that allows you to switch the exhaust from quiet to loud. They sell after market switches that allow you to control the sound when you want or not. Click Here for more details on Exhaust Switch

Click here to return to the home page from Corvette C6 Exhaust
Have something to share about Corvette parts or the best wax you like to use!
Do you have a great information? Share it! This is the place where everybody in the Corvette community can share things about their Corvette. Have a question ask it here. Share a picture of your car here.