LS7 Engine for the new Corvette Z06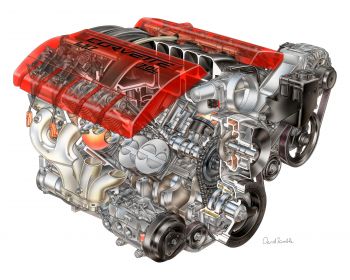 The LS7 engine for the new Corvette has its roots in Racing. Back in the C5 generation the C5-R won many races on the track in the American Le Mans Series. The heart of this car was GM's 427 cubic inch 7.0L race prepped engine capable of handling 750 normally aspirated HP. This engine was based on the Gen III small block like the (LS1) 5.7L but with more strength. The LS7 engine is a more affordable less exotic version of this engine thats based on the Gen IV engine (LS2,LS3) with front mounted Cam Sensor.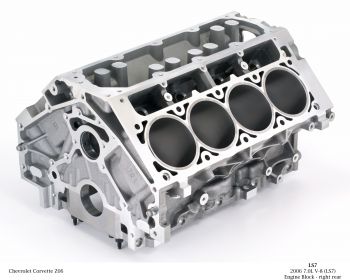 © GM Corp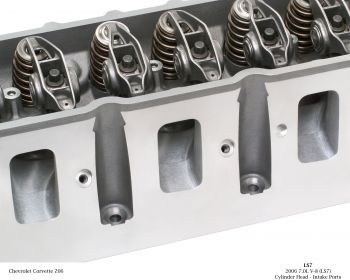 Bore x Stroke (mm / in) 104.8 x 101.6 /4.125 x 4.00

Displacement (L / cu in) 7.0 / 427
Crankshaft forged steel
Connecting rods forged titanium
Pistons cast aluminum
Compression ratio 11.0:1
Cylinder heads CNC-ported aluminum; 70-cc chamber volume
Valve size, intake (mm / in) 56 / 2.20 (titanium)
Valve size, exhaust (mm / in) 41 / 1.61 (sodium-filled)
Camshaft hydraulic roller; 15 mm (.591 in) lift (intake and exhaust)
Rocker arms 1.8:1; offset (intake only)
Air intake composite manifold with 90 mm single-bore throttle body
Fuel Premium required. 91 octane minimum
Horsepower 505 (373 kW) @ 6200 rpm
Torque (lb-ft) 475 (644 Nm) @ 4800 rpm
Engine redline (rpm) 7000
Dry sump oil system with integrated oil to air cooling system
This engine can be used in the C5 versions of the Corvette. The main difference is the engine controllers. This will require a different computer to run the 52X Crankshaft reluctor wheel on the LS7. The C5's used a 24X reluctor wheel for sensing crankshaft speed. None the less it can be done. This would be the least economical way to do an upgrade on your C5. Check out the C5 Mod section if your interested in learning more. But this would be a great crate motor for an older Camaro or muscle car. Get yourself a standalone wiring harness with a GM Powertrain E67 Production Controller with custom spark and fuel tables by GM Performance Parts. Or with Delphi's MEFI4 computer with MSD's InGenius software. Check this link for the dry sump oil pan for a conversion.
LS7 engine oil pan conversions GM Controller Kit to run LS7 motor P/N 19166567
The kit includes the following items:
• 19166569 Engine Controler
• 19166573 Engine Harness
• 12576410 Mass Air Flow Meter
• 19166574 Mass Air Flow Meter Mounting Boss
• 10367117 Accelerator Pedal Assembly
• 12581966 Oxygen Sensor (Qty 2 Per Kit)
• 15156588 Oxygen Sensor Mounting Boss (Qty 2 Per Kit)
• 19171935 Instruction Sheet

LT4 and LS7 Engine Build At Bowling Green Plant!
Have something to share about Corvette parts or the best wax you like to use!
Do you have a great information? Share it! This is the place where everybody in the Corvette community can share things about their Corvette. Have a question ask it here. Share a picture of your car here.