LS9 Engine Details
The LS9 while never officially acknowledged was almost a twin turbo.  During the development of the ZR1 engine (Blue Devil), later known as the LS9, GM ran into a small problem with its turbos.  They decided the packaging was an issue trying to get the turbos to fit in the confined space under the hood of the C6.  Part of this stemmed from the test mule burning up on Milford proofing grounds.
GM's LS9 V8 Supercharged Aluminum-Block Engine

Info courtesy of GM
The ZR1 (very limited availability) is powered by a 6.2 Liter aluminum-block V8 boosted by an Eaton® TVS™ (Twin Vortices Series) supercharger for a total power output of 638 hp at 6500 rpm and 604 lb.-ft. of torque at 3800 rpm. It is the most powerful motor ever to occupy the engine bay of a General Motors production car.
The supercharger features four lobes instead of the usual three for higher power and efficiency. It also features an intercooler to cool down the air/fuel charge for more power. In addition, nozzles squirt cooling oil into the underside of each piston.
The engine also features a dual-pressure fuel injection system for peak performance during multiple operating conditions.
Like the LS7 engine in the Z06, the LS9 features titanium connecting rods and exhaust valves as well as a dry-sump oil system with a larger capacity reservoir − now 10.5 quarts. The LS9 is hand-assembled at the GM Performance Build Center in Wixom, Mich.
Displacement (cu in / cc):
376 / 6162

Bore & stroke (in / mm):
4.06 x 3.62 / 103.25 x 92

Block material:
cast aluminum

Cylinder head material:
cast aluminum

Valvetrain:
overhead valve, 2 valves per cylinder

Fuel delivery:
SFI (sequential fuel injection)

Compression ratio:
9.1:1

Horsepower / kW:
638 / 475

Torque (lb-ft / Nm):
604 / 835

Recommended fuel:
premium required

EPA estimated fuel economy:
TBD
Dry-Sump Oil System
The dry-sump oil systems on the Z06 LS7 and ZR1 LS9 engines prevent oil starvation on high-g corners or under heavy braking. The system uses an additional oil reservoir separate from the crankcase and pumps oil through the engine to ensure proper lubrication under high-performance situations. Oil capacity has been increased to 10.5 quarts for 2009



A video of the oils journey in the Corvette engine!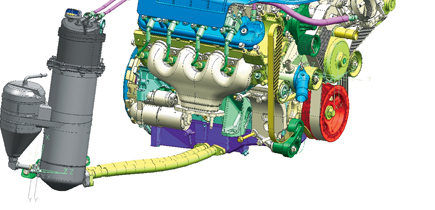 Here is a great video of them building an LS9 in the factory!
This is a great video of the Supercharger Assembly!
Click here to return to the Home page from LS9 Engine
Have something to share about Corvette parts or the best wax you like to use!
Do you have a great information? Share it! This is the place where everybody in the Corvette community can share things about their Corvette. Have a question ask it here. Share a picture of your car here.