LT1 Head for the 2014 C7 Corvette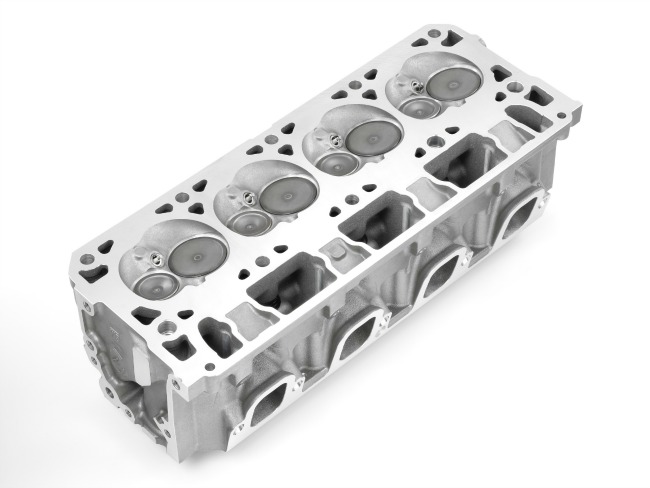 LT1 Head Details
Reversed Intake and Exhaust Valve Layout from the Gen 4 engine.
Splayed 2.5mm Intake and Exhaust Valve
Raised intake port
Compact Combustion Chamber
Premium Fuel Recommended but not required
Cetralized Spark Plug Location
Twisted Shaped High Flowing Intake and Exhaust Ports
Direct Injection Ports Located Below Intake Ports
54mm Hollow Intake Valve
40.4mm Sodium Exhaust Valve
Non-Offset 1.8 ratio Rocker Arms
Head Mounted Individual Rocker arm Saddles
2 mm Taller Valve Springs
6600 RPM Redline
Stiffer 8.7mm Push Rods
Firing Order V8: 1, 8, 7, 2 ,6, 5, 4, 3 V4: 8, 2, 5, 3
Deactivating Cylinders 1, 7, 6, 4
Direct Injection combustion chamber layout. In the picture you will see the exhaust valve on the left and below that in the 5 o'clock position the Direct fuel injector. Opposite from the injector is the spark plug electrode. The larger valve on the right is the Intake.
LT1 Fuel Sytem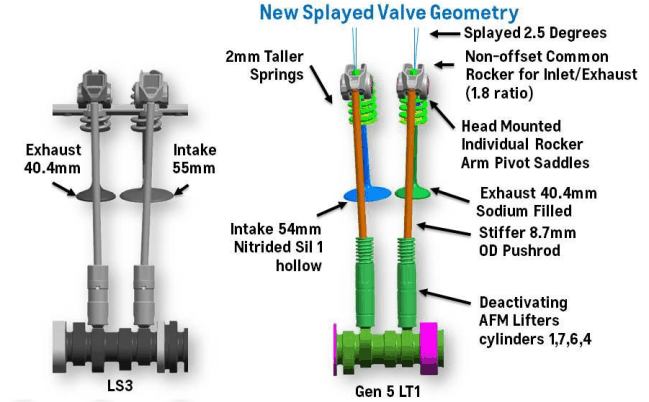 LT1 Valve Geometry