LT1 Intake 2014 C7 Corvette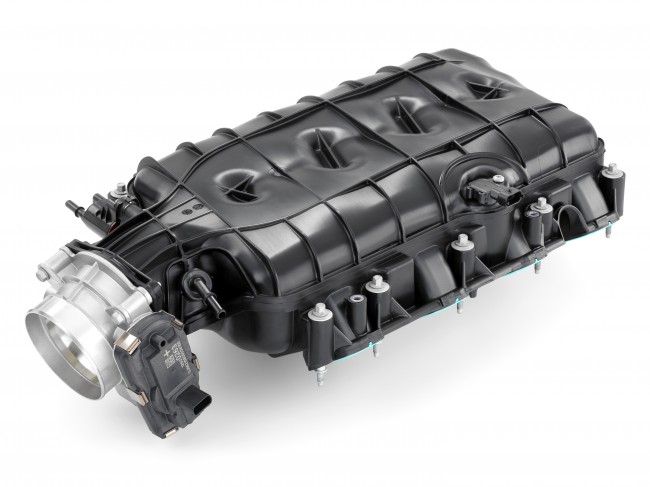 LT1 Intake Runner in a Box Design
4 Piece Molded and Welded Composite Plastic Manifold
Lightweight Thermally Efficient Construction
Airflow Imbalance Reduced 50%
87mm Digital Throttle Body with low Restriction
Dynamic Air flow Improved 3.6%
Integral Manifold Cover with Copolymer Filled Acoustic Barrier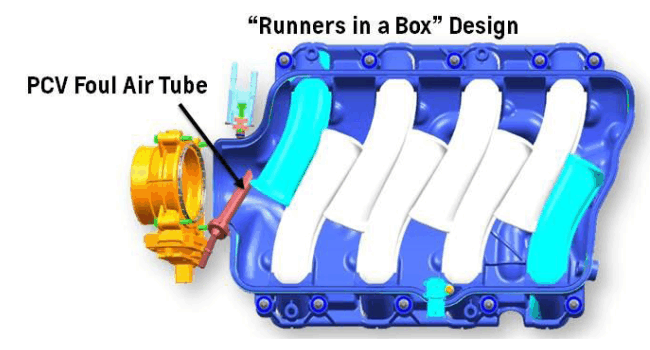 LT1 Intake Runners in a Box Design
Intake manifold and throttle body assembly: The LT1's intake manifold features a "runners in a box" design, wherein individual runners inside the manifold feed a plenum box that allows for excellent, high-efficiency airflow packaged beneath the car's low hood line.
Acoustic foam is sandwiched between the outside top of the intake manifold and an additional acoustic shell to reduce radiated engine noise, as well as fuel pump noise.
The manifold is paired with an electronically controlled throttle, featuring an 87mm bore diameter and a "contactless" throttle position sensor design that is more durable and enables greater control.
GM Media Press Info
LT1 Intake Aftermarket Potential
The new LT1 is 99% all new. That means that almost no parts carry over from the Gen 4 engine. Most likely it will take several years to provide any aftermarket performance upgrades. Challenges will exist that need to be overcome. First challenge and most important will be to calibrate the powertrain computer. The computer code will be the biggest challenge to crack first. After that intake, exhaust and camshaft changes will be able to be made. Our first impression of the fuel system leads us to believe that it has great potential once someone is able to crack the calibration. After that only time will tell how much power GM left on the table.
Click here to return to LT1 C7 Corvette from LT1 Intake