Z06 Wheels Tires, Pictures, Videos and Comparisons
Stock C6 Z06 Tires and Size
Goodyear Eagle F1 Supercar EMT Run Flat Tires
Front: 275/35-18 Approx $ 420 ea. Rim width 9-11"
Rear: 325/30-19 Approx $ 500 ea. Rim width 12-13"
Treadwear: 220 *See Note*
Tread Depth 8/32"
Traction: AA
Temperature: A

How Treadwear is Graded for All Tires
*Note* UTQG Treadwear Grades are based on actual road use in which the test tire is run in a vehicle convoy along with standardized Course Monitoring Tires. The vehicle repeatedly runs a prescribed 400-mile test loop in West Texas for a total of 7,200 miles. The vehicle can have its alignment set, air pressure checked and tires rotated every 800 miles. The test tire's and the Monitoring Tire's wear are measured during and at the conclusion of the test. The tire manufacturers then assign a Treadwear Grade based on the observed wear rates. The Course Monitoring Tire is assigned a grade and the test tire receives a grade indicating its relative treadwear. A grade of 100 would indicate that the tire tread would last as long as the test tire, 200 would indicate the tread would last twice as long, 300 would indicate three times as long, etc.
Traction
Grades
Asphalt G force
AA Above 0.54
A Above 0.47
B Above 0.38
C Less Than 0.38

Concrete G force
AA Above 0.41
A Above 0.35
B Above 0.26
C Less Than 0.26

The UTQG Temperature Grade indicates the extent to which heat is generated/ or dissipated by a tire. If the tire is unable to dissipate the heat effectively or if the tire is unable to resist the destructive effects of heat buildup, its ability to run at high speeds is reduced. The grade is established by measuring a loaded tire's ability to operate at high speeds without failure by running an inflated test tire against a large diameter high-speed laboratory test wheel.
Grades Speeds
in mph
A Over 115
B Between 100 to 115
C Between 85 to 100

C6 Z06 Wheel Sizes
Front: 18 inch x 9.5 inch
Rear: 19 inch x 12 inch

Corvette Wheel Brands
BBS Capital Forged COR Wheels
Donz
DPE Wheels
Enkreuz
Factory Reproductions
Forgiato
HP Wheels
Iconz
iForged
MHT Forged
O.Z.
Sevas Forged
Sport Edition
XIX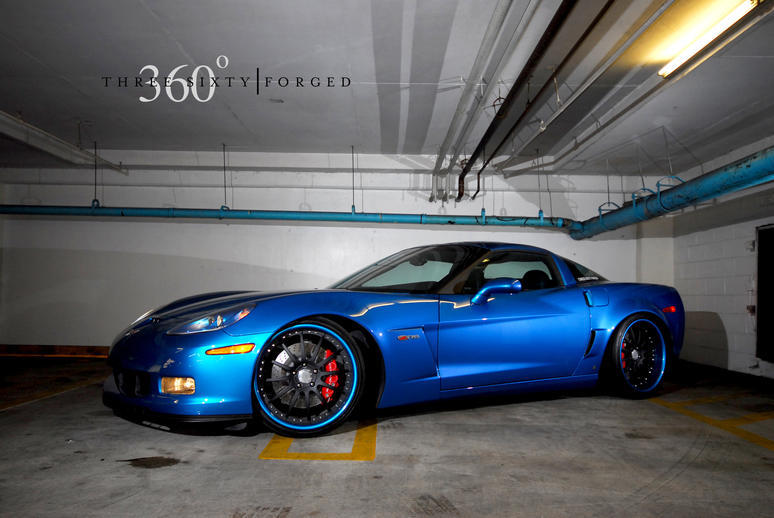 Have something to share about Corvette parts or the best wax you like to use!
Do you have a great information? Share it! This is the place where everybody in the Corvette community can share things about their Corvette. Have a question ask it here. Share a picture of your car here.