Corvette Floor Mat Review
One of the first things owners do for their Corvettes is install a nice set of custom looking Corvette floor mats.  We here at Corvette web central.com are no different!  So with the arrival of our new C7 Z06 research and  development car we decided to change up the same old looking floor mats for these new style luxury floor mats.  They are from AutoPreme Luxury Floor Mats.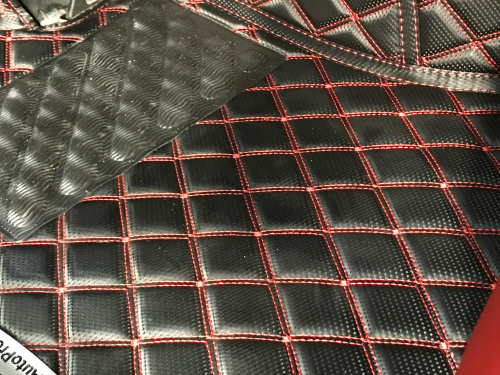 Cleaned AutoPreme Corvette Floor Mat
Durable!
At the time of this review and photos the mats have seen two track events a 1400 mile road trip to Bowling Green and several Michigan Road tours for our sister site Travel-Mi.com.  Many days of rain and the occasional gravel parking lot to top off the list.  We are not a fan of any of these conditions but we have deadlines to meet!  2500+ miles and counting.    
We have had these in the car since March 2018 and have purposely not cleaned them to see how they hold up to grinding dirt and daily use.  Ok maybe we were just lazy and a little busy..... We are happy to say they are holding up great and still look like new!
What We Like About These Mats
Durable
Clean Easy
Easy to install (less than 5 minutes)
Protects the whole floor carpet including the sides
Does not show heel wear such as other carpet style floor mats
Custom unique, high end luxury feel without being delicate
Adds a layer of sound proofing and temperature resistance
Scratch Proof
Water Proof
Great Fit 
Clean Up is a Snap!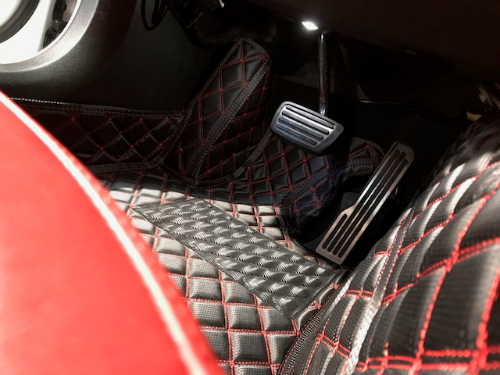 About the Luxury Floor Mats
The Brand is AutoPreme and we selected the Platinum Package in Obsidian with Red Stitching.  The Mats are very popular in several vehicle brands and models so they make them for your other cars too.  Part of being popular is you will have to wait for them.  Ours took several weeks to arrive.  We had a slight delay but we worked directly with the contact person.  Well worth the wait.  
They don't recommend installing floor mats over them but they do sell a traditional secondary mat to go over the luxury mat.  We opted to not do the secondary mat since we already had another custom set.  When we get to car shows we just through them on top and everything looks new.