68 Corvette matching #s L-79 roadster PROJECT for sale!
by George
(Massachusetts)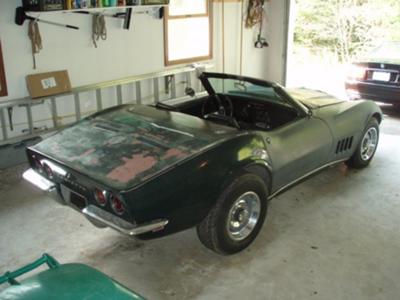 After debating this for some time, I have come to the conclusion that I just do not have time to work on it, so it's time to sell.
1968 Corvette matching #s L-79 327/350hp roadster PROJECT. This is the first year for the "shark" body, and last year for the 327. Optioned with M-21 4 speed, 4:11 posi, speed minder, off road exhaust, am/fm, headrest seats and shoulder belts (rare). No power options. Trim tag is 983-std, British Green with Black interior. I have a clear MA title in my name. Mileage is 94,917.
I bought this with intents of doing a full tilt, body off restoration, which it really needs as everything will need to be restored- body, frame, interior, mechanical, etc. Before I started I did drive it on my local rural roads with an auxiliary gas can (the original leaked) and it ran through the gears fine, no smoke or bad sounds from the engine, and it pulled like you would expect a 350hp Vette with 4:11 gears would. There is no describing the brutal pull this car has! It was by no means a driver before starting as it had sat since the 80's, (in fact I had to put front calipers on it just so I could stop it) but I wanted to give it a run so I would know the condition of the drive train. Probably not the smartest thing I have done, but we both survived!
Currently the body is off the frame and stripped bare, properly supported on a purpose built heavy duty dolly. The drive train is out, and the frame is about 80% stripped (front suspension is still on). I saved everything, and bagged and labeled all smaller items.
What is missing/incorrect: There are no rear inner trim panels or behind the seat floor compartment lid. Two of the rallye wheels are the correct 15x7's, two are 15x8's. The fan shroud is a plastic one from another year. The intake is an aluminum high rise Edelbrock with a big Holley on it. I have a late 67 dated stock intake that would look appropriate. No ignition shielding. The valve covers are wrong. No air cleaner. No smog equipment. It had 69 taillight lenses in it but I have a nice set of 68 originals (I do have the 68 backup light assemblies). No jack. It had a nice GM "427" big block hood (with great 70's ribbon graphics!) on it when I got it (to clear the Holley) but I have an original small block hood that needs minor work on a corner. You get both.
What it needs: Like I said, this is a project. The body needs work in the usual places; around the rear bumper, in front of the hood has the usual bumps, there is a section of the driver's floor that was somehow broken, which I cannot explain, it's almost like someone put their foot through the floor instead of on the clutch pedal. The doors are the correct 68 ones, with the embossed "Astro Ventilation" markings on the side glass. The passenger door should be re-skinned due to a chunk off the leading edge, but it could be repaired. There is no rot on the bottoms of the door frames.
The frame needs repair on both rear kickups, and an amateur
repair on the tranny cross member where it meets the passenger rail needs to be addressed, but the frame is absolutely savable. The rails themselves are solid and everything forward and after the kickups looks good other than the usual pitting which is to be expected of a New England car. When I started researching I could not believe the frame parts that are available!
Interior needs upholstery, carpet, etc, all the unique 68 stuff for the dash is there, though. It has the correct green lettered gauges and L79 6000rpm tach. I also picked up a second set of headrest seats as the ones that came in the car are pretty rough (the headrests themselves are nice, though).
Other than the above mentioned items, the engine compartment looked pretty legit; all accessories appear to have proper date codes. It has all of its 68 specific vacuum parts for the headlight doors and wiper door, correct aluminum vacuum tank, headlight door actuators, etc. Obviously everything should be rebuilt. I have the convertible top assembly. I also have a spare shifter, and will throw in the service manual, sales brochure, owner's manual with cover, etc. I did not find a tank sticker.
The birdcage and windshield frame are solid as a rock! I removed the windshield (broken, but it was a replacement anyways) and cleaned out the channel and there is no rot.
I know I have described this Corvette to death, but I believe in being as honest as I can so there are no surprises. If you have any questions or want to see it, feel free to contact me. This is a unique opportunity to purchase a legit, matching #s 350hp chrome bumper roadster. There are a lot of projects out there; mostly I see ones with the wrong, or no, drive train. I saw a t- top coupe with no motor and flared wheel wells just sell for 8 grand. This is a heavy project, but why spend 15 grand on a so-so driver if you plan to take it apart and restore it anyways? Some may panic at the thought of buying a car in boxes, but in reality I have saved you the aggravation of taking it apart (it took me four years!) and it is now to the point where there are no surprises hiding. It was my intent to restore it to my liking, but it really does have potential to be a NCRS car (if that's your thing) seeing as it has matching #s and a lot of the unique 68 only stuff is there and savable, which is half the battle. Everything else is available, but you can't (ethically) replace the tags. stampings and engine pad. I can put the rear suspension back together enough to make it a roller for transport if desired, but do not have the equipment or manpower to put the body back on. It can certainly be fastened to the dolly and transported that way, though. Or come with some guys and I'll help you put the body back on.
Please, no e-mails without contact information! The car can be shown on short notice, as I'm flexible with my schedule. I'm not interested in trades. Looking for $8000.Cash talks, the first here with a reasonable cash offer will probably take home the car. 413-896-3568-George