Looking to sell 1982 Canadian Collector Edition
by C. L. Boyd
(Lakeland, FL USA)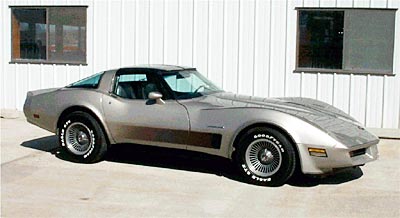 1982 C3 Collector Edition Front Side View
Year: 1982 C3 Collector Edition


Miles:
51,967 kilometers (this car was originally from Canada and has a kilometer speedometer and odometer -- 51,967 kilometers = approximately 32,291 miles)
Actual Mileage:
Yes
Special Options:
has all Collector Edition options plus I have the original working AM/FM Stereo Cassette with Citizen's Band radio (currently fitted with a Pioneer AM/FM/CD player radio). This C3 has the original smoke tinted Collector Edition T-tops and the openable rear hatch glass. The gradient decals that were part of the Collector Edition package are on the hood and sides.
Damage:
Interior leather on seats, door panels, and steering wheel is cracked and needs to be replaced (replacements are readily available from several Corvette parts dealers).
VIN#:
1G1AY0787C5103067
Condition:
Drives and handles well, Crossfire EFI system works perfectly (perhaps because only non-ethanol unleaded gasoline has been used), considerable cosmetic damage to interior (leather seating surfaces, door panels, and steering wheel have cracked and need to be replaced)
What does not work?
Power antenna, power driver's seat, and power door locks no longer work
Any other work that needs done?
Rear hatch glass needs alignment (gap and driver's side top), and there are water spots on a portion of the rear glass (hatchback glass was replaced with a used piece in 2008 after
the original was smashed by a vandal; replacement glass also has defroster grids and tint as did the original, and the rear defroster does work).
Location of Corvette, City and Zip:
Lakeland, FL 33803
Asking Price:
$15,000 (negotiable)
I am the third owner of this car. This car was shipped new to Bolton Motors in Bolton, Ontario, Canada (suburban Toronto) and by report was a leased vehicle. It was purchased an an auto auction by a upstate New York dealer who sold it to a retired gentleman in Utica, NY. The second owner drove it only from Memorial Day to Labor Day and never in inclement weather. This car was a part of his estate when he died, and I bought it from his inheritors. Being in the Florida heat and humidity for 12 years has taken its toll on the interior leather on the seats, door panels, and steering wheel. Mechanically the car runs and handles very well, and the air conditioner works fine. I want to sell it to someone who will be interested in restoring and using it. Due to worsening rheumatoid arthritis, it is very difficult for me to enter and exit this Corvette with the T-tops in place, so it is no longer practical for me to keep it.