Paul "MEENIE" Wallace
by Paul Wallace
(Boise,Idaho)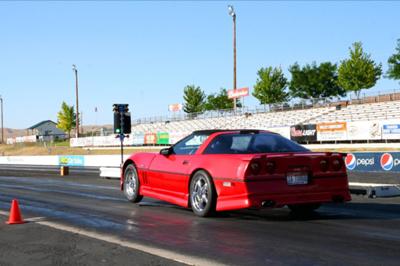 Hard Launch,Wheels up!
This is my 85' Greenwood Coupe. It has been modified with a 383 stroker,A.R.E. 210cc heads,Lunati Roller valve train and Cam,SVO 35lb Injectors,SLP match Ported Intake,Runners,and plenum.MSD 6AL 2 Step Digital Ignition and Distributor.Programable ECM,Brent McKinney Built 700r4,3000 RPM stall,Dana 44 w/3.73 Richmond gears. And N.O.S. 125 hp Nitrous system.It is raced In the DIVISION 6 NHRA Gold Cup Series at our local dragstrip here in Idaho.Has won several Drag Racing Championships.The Picture was taken @ FIREBIRD RACEWAY,BOISE,IDAHO on a "Test n Tune Day" . Just a "FAST N FUN" car to drive. We have a 89' Corvette Roadster as our Show Car With Multipul "BEST of SHOW" Wins. The only thing better than owning a Corvette is Owning Two !
Join in and write your own page! It's easy to do. How? Simply click here to return to Best Corvette Photo Contest!.